The Sugared Saffron
Asma Hassan founded the Sugared Saffron in 2011 and since then, hasn't turned her back on cute, quirky and kitsch cake designs which will delight girlie brides who long for something different. Located in London, these are some seriously exclusive bakes.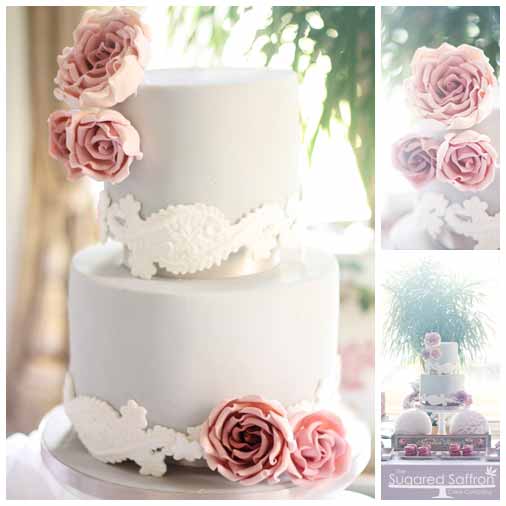 ---
The Designer Cake Company
Talented Isabelle Bambridge creates tall, impressive and prettily decorated wedding cakes in her Gateshead studio and it's clear that she's a total perfectionist. Everything is clean, crisp and perfectly balanced.
---
Tartufi Cakes
The pieces on offer at Tartufi are as varied as they are perfect. From naked cakes covered in juicy strawberries to pretty pastel iced tiered confections, we definitely covet these gorgeous treats from Southsea in Hampshire.
---
Emily Jane Cakes
A qualified cordon bleu chef, Emily Jane makes wedding cakes which fit current trends perfectly but taste like classical French patisserie. Sound good? Just wait until you see them. Flowers, pearls and pastels galore…
---
Curtis & Co Cakes
This baker has long been devoted to baking and cake decoration and now runs a small scale bakery from South Gloucestershire. Her cakes are award winning and feature lace, crisp pastels and flawless roses in abundance.
---
Cakes by Beth
With a background in science and engineering, Beth's contemporary designs are clean and modern, often using bold shapes and colours. Cakes by Beth have created cakes for high profile events and weddings across the UK… and even to France!
---

---
The Red Cake Company
The Red Cake Company is run by two very talented women who prioritise flavour and quality of ingredients within a wide range of absolutely stunning designs. Ribbons, pastels, roses, pearls and elegant piping as far as the eye can see!
---
Rachelle's
Rachel is passionate about building and making a huge range of gorgeously designed bakes in her south London kitchen – and even has her own urban chickens to provide some of the ingredients! With a background in design, it's hardly surprising that every single one of the wedding cakes at Rachelle's is a work of art in itself.
---
Anna Tyler Cakes
Anna Tyler has been passionate about baking her whole life and so starting up a cake design business came naturally. As a professional photographer, she's no stranger to a good wedding but after a nosey through her bakery handiwork, we're so glad decided to swap the camera for the kitchen.
---
Jess Hill Cakes
All ingredients at Jess Hill cakes are absolutely top quality, so you'll be able to guarantee a cake which really does taste as good as it looks. Ranging from traditional designs to clean, modern pastels, the detail and expertise present in every bake is absolutely stunning.
---
Restoration Cake
Restoration Cake describes itself as a baker of cakes 'fit for a king' and we're not really in any position to argue with head baker Charlotte White! Combining accomplished precision piping with gorgeous designs and lavish florals, these bakes are truly lust-worthy.
---
Ice maiden Cakes
Julie Gibson truly does bake from the heart after being taught valuable skills in the kitchen from her beloved nan. Designs can be traditional, modern, fashionable or bespoke and totally bonkers!
---
The Cake Store
Whether it's a grand show stopper of a cake, a petite dainty design or something altogether quirkier, the dedicated wedding team at The Cake Store, headed by Helen Mighell, can design the perfect cake for you.
---
Bath Cake Company
Multi award winning cake designer, Celia Adams, and her creative team produce bespoke wedding cakes unique to your special day. Supplying wedding cakes for Babington House, The Royal Crescent and Priston Mill to name a few, their stylish wedding cakes taste and look stunning.
---
Slattery Cakes
Slattery in Whitefield, Manchester is an institution in the area and houses three whole storeys of chocolates, sweets and cakes freshly made every day – in other words, heaven. Their cake designs aren't half bad either, offering everything from intricate Asian inspired piping work to simple modern roses.
---
Cakes by Lisa Notley
Created deep in the Dorset countryside, the focus for Lisa Notley is the bespoke, individual requirements of every single bride. Everything you'll see on her site is crisp, clean and perfectly executed.
---