Scotland
AMM Hair & Make Up Team
Founded by the award-winning hair stylist, Anne Marie McElroy, AMM bring together the best hair and make-up artists across Scotland to give brides the fairy tale (or steam punk or vintage or contemporary) look they have always dreamed of. A truly personal service providing both hair and makeup tailored to your look and personalist to make sure the look really does express the real you.
Website | Facebook | Instagram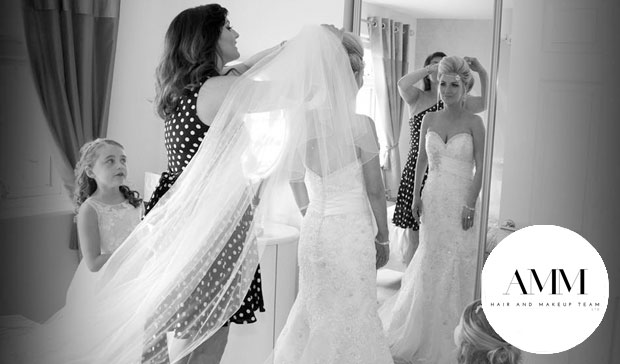 ---
Clare Pearson Hair & Make-up Artist
Clare Pearson has a glittering array of awards attesting to her skill as both a hair and make-up artist who trained at The Academy of Make Up Scotland. Working at fashion shows, photo shoots and countless weddings have all added to her portfolio and experience in providing first class service and the perfect look for the bride's big day.
---
Suzanne McMahon
While some get hair extensions, Suzanne has been getting her shelves extended to house her growing collection of awards which are a testament to her undoubted skill as a wedding hair stylist. We could tell you all about her growing array of awards and appearances in countless wedding magazines or you can check out her Instagram feed for yourselves. It's gorgeous!
Facebook | Instagram
---
Lisa Ivone Bridal Hair Couture
Passion and romance are the cornerstones of weddings, and a passion for weddings and giving her brides the perfect hair they have always dreamed of is what drives Lisa Ivone. Building special relationships with her brides Lisa offer a truly personal service that makes all the difference on such a special day to get the whole party looking exquisite for those wedding photos.
Website | Facebook | Instagram
---
Jeff Buchan Hair
Two words, 'prosecco', 'garden'. Yes, that's the kind of indulgent and fizzing service Jeff Buchan's team provide at his Stirling salon. If you're looking for a totally new look ahead of your day and need the right people to help guide you then this really is a fantastic place to start, from colours to complete transformations as well as a full wedding hair service.
Website | Facebook | Instagram
---
Saleema Hair & Makeup
An award-winning hair and makeup artist, Saleema has built her reputation on a foundation of praise from happy clients and all the awards in the world pale into comparison with real brides telling you how you made their day perfect. Which is something Saleema does time and time again making her an easy choice for both our list and her waiting list of clients.
Website | Facebook | Instagram
---
Bridal Stylist Scotland
Based in central Scotland, Shona has a wealth of experience which has seen her talents travel far and wide across Scotland, England and France to give brides their dream look. She'd be a fantastic team mate on bridal top trumps as there's no scale of wedding or venue she hasn't attended, whether it's castle chic or boho beach style it's always first class.