Midlands
Bridal Hair Specialists
Great wedding hair isn't just created on the day. It's the time the stylists spend with the bride before the event that really makes the difference. Natalie B and her fantastic team of hair artists have a passion for creating amazing wedding designs perfectly tailored to their brides to help create those magical, wedding day moments every bride wants.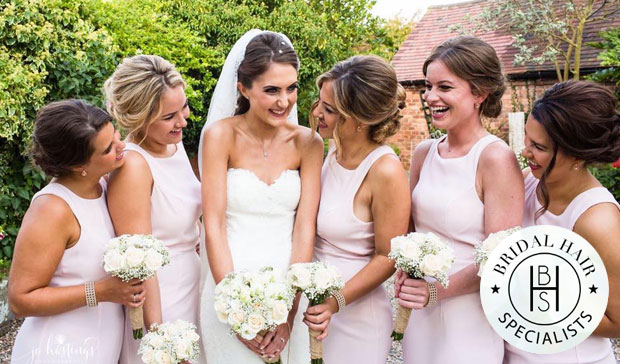 ---
Pin Up Curl
If you love vintage, you'll love the incredible work created by the one-woman tour de vintage force that is Sarah Bloor. Covering a great range of looks from the glamour of the roaring 20's to the swinging style of the 60's, Sarah has something for every retro-hearted bride. She even transforms hen parties.
Website | Facebook | Instagram
---
Alison Jenner Hair
It's such an intimate thing to be a part of the bride's big day, to create her dream look and it takes a special kind of stylist. Nottingham based Alison Jenner is one of those hair wizards that makes your wedding day dreams reality. Having worked around the UK and in Europe her talents and reputation continue to grow.
---
Victory Rolls Hair & Makeup Parlour
You don't have to just be a fan of the amazing styles of the 40s (but we are!), Laura Firth's amazing talents create elegant, timeless and contemporary bridal hair designs to help transform the look. But mostly it's her vintage work that has built her a growing army of fans and grateful brides.
---
Helena Sinclair Bridal Hair
While many hairdressers work with all kinds of clients for all kinds of events, Helena is a bridal specialist which is great for your big day. Having someone who knows all about weddings, has spoken to so many brides and helped to relax them in the build-up is no bad thing. Along with all the experience comes a huge amount of talent and dedication making her a great choice for any bride-to-be.
Website | Facebook | Instagram
---
Beau Hair
Beau are a select team of hair stylists and makeup artists who specialises in weddings. The team can travel to your home and cover a wide area across Nottinghamshire, Derby, High Perak, South Yorkshire, Stockport, Greater Manchester and Cheshire. If you are lucky enough to get one of their fab team you'll be in wonderfully creative and experienced hands indeed.
---
Vivid
Hair is there to be fabulous! The great team at Vivi wouldn't have it any other way. With over 20 years of experience and a hatful of awards, the fabulously friendly team can give you the look you want, from extensions to colours if you want a new look for the big day or want something classic and classy then they're happy to help.
---
Barbarella Hair
Offering 'affordable luxury' and first-rate service, the award-winning team behind Barbarella believe you should have to be an A-lister to get star treatment. Especially on your wedding day. Whether you are looking for red carpet style extensions, accessories or something whimsical, they'll help make your vision a reality.
Website | Facebook | Instagram