South East
Magic-Al – Magician
Magic-Al could be one of the highlights of your wedding reception. As an acclaimed street magician, the tricks and skills he brings to private events are totally mindboggling and will have guests scratching their heads and reeling with OMG amazement. One of the best things about Al is that most of his tricks are performed with objects in the immediate vicinity, which can result in some hilarious moments as he makes the Best Man's brand-new iPhone disappear before his eyes, only to reappear in the most unexpected fashion. Just how does he do it?
---
Chocolate Fountain Heaven – Chocolate Fountains
So, the buffet has been destroyed, the cake cut and the guests are getting in the mood for a boogie. But what's this? A chocolate fondue? Suddenly everybody's priorities have changed and it's a mad dash for a strawberry and a dipping stick as guests race for a taste of the chocolate indulgence. That's what Chocolate Fountain Heaven bring to each and every wedding they attend. Pure, delicious, unadulterated melting joy at the tip of your tongue. And if it's good enough for the girls from Little Mix…
---
Vintage Bar Box – Mobile Bar
Add a little something different to your wedding in the Sussex countryside with Vintage Bar's lovingly converted horse box mobile bars. These brilliantly quirky bars are certainly unlike anything that your guests will have seen before and are sure to be a big talking point, helping to thaw the ice between people who don't know each other so well, while keeping them hydrated at the same time, of course. Bottoms up!
---
Carlton Ensemble – String Quartet
If you just want one live musical act to soundtrack your special day then Carlton Ensemble would be an excellent choice. Whether walking down the aisle or your first dance as man and wife, they have a stunning repertoire of classical tracks, you can also request more modern hits including Bruno Mars, Christina Perri, etc. Strings never sounded so good!
---

---
CoCo Photo Booth – Photo Booth
Why settle for an ordinary photo booth when you can have one that sits inside a converted classic Mini? Yep! Coco Photo Booths are just that darn cool, and when you couple that retro-chic style with the funky props and accessories provided, you're practically guaranteed some hilarious photos that'll serve as the perfect memoir of your wedding reception. Say cheeeeeeeeeeeese!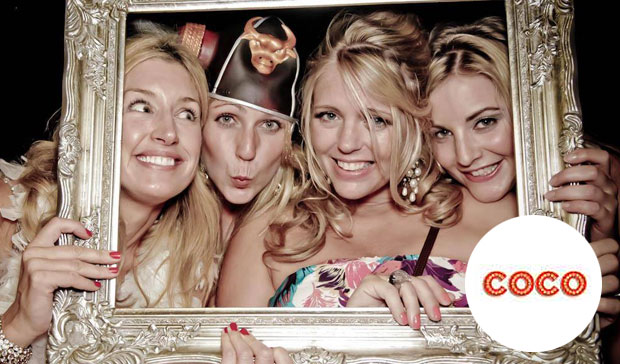 ---
David Redfearn – Magician
David Redfearn is a gold star member of the Inner Magic Circle, an exclusive group of magicians of which there are only 200 members worldwide! He's just that darn good at what he does, and when he appears at your wedding he'll blow your guest's minds with his astonishing style of close up magic. David has even performed for film stars, musicians, sportsmen and even Royalty. We are most certainly amused.
Website | Facebook | Twitter | YouTube
---
The Sensation Band – Wedding Band
The Sensation Band was co-founded and is run by one of the UK's top music producers, Jason Silver, giving you an amazing performance from start to finish. The stunning musicians who make up the band are all fantastically talented and have an outstanding back catalogue of tunes to get your guests strutting their Uptown Funk all night long. Or if you're going for a more retro-chic kind of vibe, just ask for a round of Motown classics. The choice is yours!
Website | Facebook | Twitter | YouTube
---
Dazzle and Fizz – Wedding Creche
Let's face it, sometimes even adults can get a tad bored with all the formalities of a wedding day before the real party kicks off in the evening. So, spare a thought for all the children present and invite Dazzle and Fizz to give them the wedding reception they want to be a part of. They can add a child friendly element to the wedding with a selection of top notch performers that will delight younger (and yes, some of the older) bridesmaids and little guests.
---
Gary Evans – DJ
The winner of 2017's prestigious Wedding Industry Award for "Best Wedding DJ in England", Gary Evans is at the peak of his disk jockeying powers at the moment and was a truly easy pick for our top 50. Unlike some DJs who will just queue up a playlist and see that as "job done", Gary makes a real effort to entertain your guests throughout and also acts as a fabulous master of ceremonies to kick off the party. A must-have face for your wedding team.