Ok, huddle up, we're going to tell you a secret… Sometimes weddings can be a little bit boring. There, we said it! But while the bride and groom are off posing for the perfect wedding photo, guests can sometimes get a little bit lost. Having the right face(s) to keep your guests entertained really can make your big day. And a good band, singer or entertainer can transform the mood and make yours the wedding everybody remembers.
Once again GoHen have gone in search of the ultimate crowd pleasers with this year's 50 Best Wedding Entertainers.
Nationwide
Chris Piercy Magic – Magician
Surprise and delight your wedding guests in equal measure by bringing in Chris Piercy to perform his mind-bending tricks and illusions for your reception. Yes, the close-up magic is predictably brilliant with plenty of tricks up his sleeve to keep your nearest and dearest totally hooked, but what makes Chris really stand out is his showmanship and the bags of charisma he brings to each and every wedding.
Website | Facebook | Twitter | Instagram | YouTube
---
Fun Casino Hire – Casino Hire
Give your wedding reception a touch of Gatsby glamour by having a Fun Casino complete with real chips, roulette spinners and croupiers. There are bound to be those amongst your guests who are known to enjoy the odd flutter as well as those who've never sat a poker table before, but soon enough everybody will be rolling the dice and chasing their next big win. Be lucky!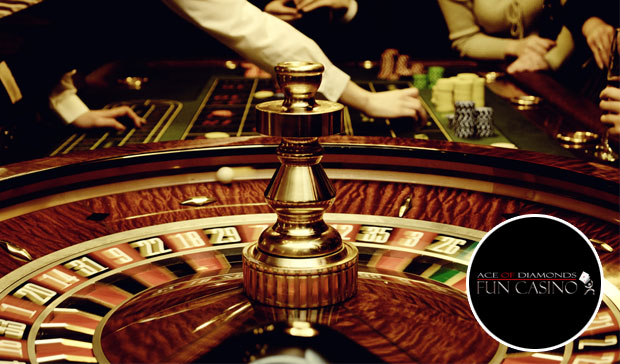 ---
The Best Singing Waiters – Singing Waiters
Add an extra WOW factor to your wedding reception as your waiters suddenly burst into song halfway through the wedding breakfast. The award-winning Best Singing Waiters have performed for over 1,000 weddings, served 225,300 courses and have West End credentials. So, you can bet that they're as professional as waiters as they are as performers. They've performed for the likes of John Bishop, Kevin Bridges, Kevin Keegan, Danni Minogue and the cast of Hollyoaks.
Website | Facebook | Twitter | YouTube
---
Rockaoke – Wedding Karaoke
With Rockaoke you can be a rock star at your own wedding. This karaoke band kicks off their gigs just like any other act, before inviting your guests on stage to take over vocal duties. It's a great twist on usual bands and something no one will be expecting, there are always a few good singers in every group. And who knows, you could discover that the Best Man had the X Factor all along. This is something as different as it is special.
Website | Facebook | Twitter | YouTube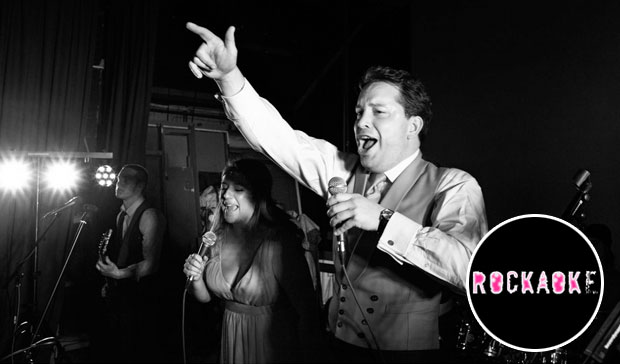 ---
Putter Fingers – Crazy Golf
We're huge fans of crazy golf and Putter Fingers in particular, we now firmly believe that the gap between the speeches and the DJ setting up should be exclusively filled by crazy golf and lots of it. The friendly PF team will provide a funky (and crazy, obvs) golf course for your wedding guests as well as score cards so the more competitive of you (we're looking at you bridesmaids) can record your scores.
Website | Facebook | Twitter | Pinterest | Instagram | YouTube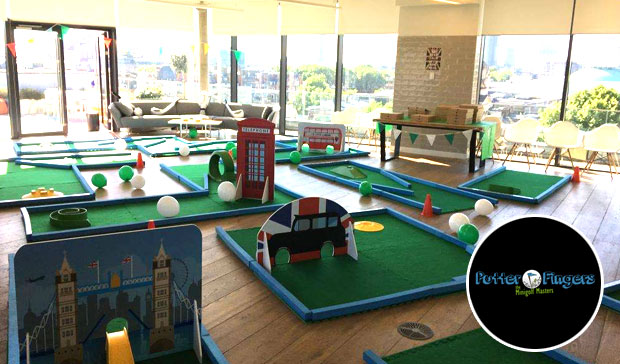 ---
Silent Noize Events – Silent Discos
Shhhh! You really have never seen a disco like this before. Each guest gets 3 channel headphones to wear and then they can choose what music to listen to. This creates some totally hilarious moments as you could be dancing with a handsome groomsman to the smooth sounds of Prince, while he's flinging limbs to the wide-screen rock of Green Day. It's all the fun of disco, with none of the pain of Jedward.
Website | Facebook | Twitter | Pinterest | Instagram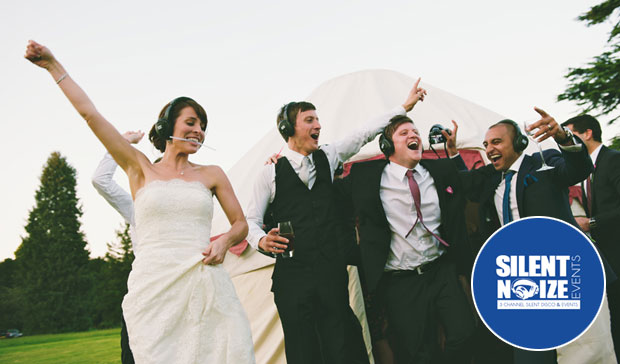 ---
Traditional Fairground Co. – Fairground Rides
Give your wedding reception some vintage flair with the Traditional Fairground Co.'s amazing range of attractions and game stalls from yesteryear. It's a great way to entertain adults and younger guests alike with classics like the coconut shy and the hook-a-duck, while the groom and his Best Man can find out who has more machismo with the 14ft high striker. Who could see a funfair at a wedding and not start smiling?!?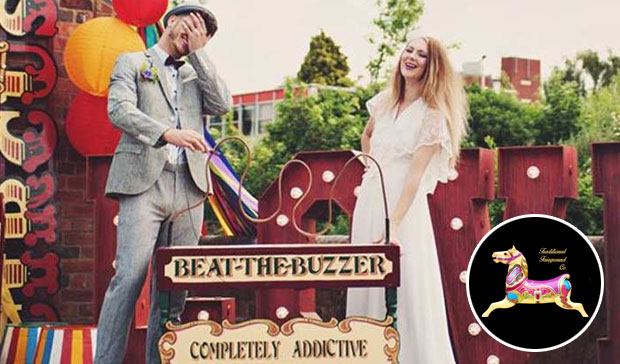 ---
The Deltatones – Wedding Band
Finding a wedding band to suit all your guests really is a tricky task, it's certainly rare to find an act like The Deltatones who do offer something for everyone. The award-winning duo of Rob Harper and Steve Stroud can create a full day of entertainment with soft acoustic tracks for the afternoon, leading into a rocking headline set and even a night of disco tunes to keep the party alive into the early hours.
Website | Facebook | Twitter | Instagram | YouTube
---
The Live Piano Experience – Duelling Pianos
We might not be Simon Cowell but in our opinion this is the UK's best duelling piano act. We love seeing Mark and his opponent of choice going head-to-head in a musical battle to get in the last note. What makes The Live Piano Experience really stand out is the sheer energy levels they maintain for 3 HOURS of live music! They'll even take requests from your guests and keep everyone spellbound with their fast moving fingers.
---
The Salvation – Wedding Band
The Salvation say that they're "Probably the best wedding band in the world" and we're certainly not about to argue. This supergroup never fails to pack out the dancefloor and have a repertoire of songs that spans FOUR generations, so you can expect everything from Motown hits to modern day chart toppers.
---
The Apothecary – Mobile Bar
Wondering how you're going to ply your wedding guests with gin and tonic at your rustic wedding reception in the countryside? Well wonder no more just call in The Apothecary, an amazing mobile bar who can set up in a mini-marquee to delight your nearest and dearest with whimsical alcoholic concoctions from a bygone era. Or if Grandad is a little worried about trying a Sloe & Steady there's still a huge range of wines and beers for him to enjoy.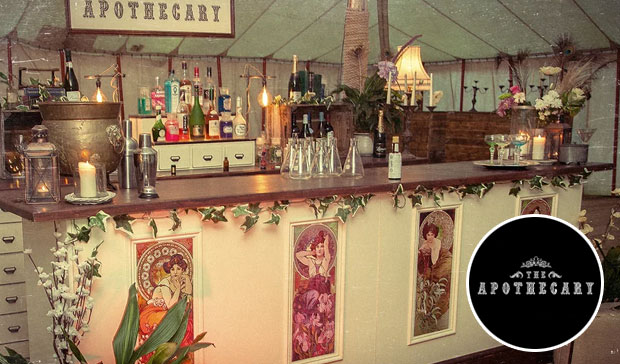 ---
Dancers for Events – Flashmobs
Everybody expects there to be some kind of entertainment at a wedding reception, but what your guests won't expect is a dance troupe from Dancers for Events suddenly bursting from the audience to perform an unforgettable flashmob routine. It's a great way to totally wow your guests and will surely result in some spectacular reaction photos for you to look back on long after your "I do's" are done.
---
BeetleJuice – Mobile Bar
A cocktail bar operating from the back of a funky vintage VW. Do wedding bars get any better than this? It's a serious question now this amazing company are on the scene, delicious cocktails in tow. This is a great choice if your wedding is taking place out in the sticks or even if your dream "I do" is in the heart of town and you just want to add a little something different to your day.
Website | Twitter | Pinterest | Instagram | YouTube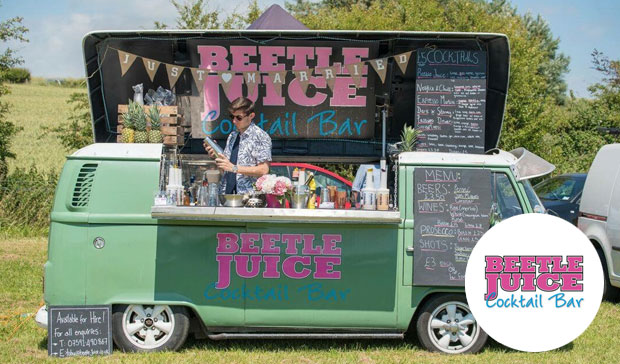 ---
Phenomenal Fireworks – Fireworks Displays
Gather all your guests outdoors for a firework display really will give your big day that fairy tale touch. Now you too can have Hollywood ending to your wedding day with a tremendous show from Phenomenal Fireworks. This company are experts in all things that whizz and bang and will give your wedding reception an unforgettable touch while lighting up the night sky.
Website | Facebook | Twitter | YouTube
---
Spiritual Events – Palm Reading
If you want something a bit different and have a passion for spirituality then a palm reader from the team at Spiritual Events is the perfect entertainment for your wedding reception. Who knows? There could be a tall, dark and handsome stranger in the maid of honour's future…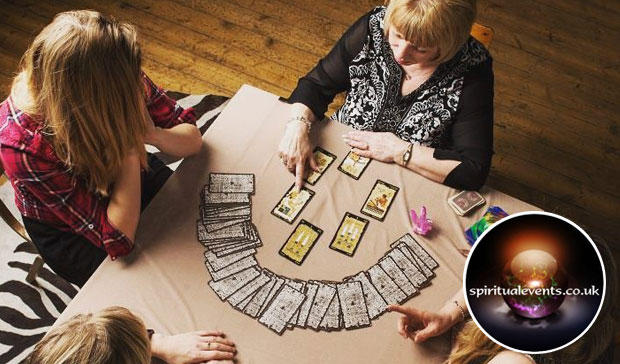 ---
The Indie Killers – Wedding Band
The Indie Killers have some serious musical pedigree between the three of them; Damian has played with Alanis Morrissette, David Bowie and Bob Dylan, Luke has played Wembley Stadium and Andrew can play more instruments then you can shake a tambourine at! They're always in demand and they know how to get the party started, with a fabulous catalogue of tunes that has a little something for everyone. And if it's good enough for the Big Brother wedding…
---
Jukebox – Wedding Band
Jukebox is a more than appropriate name for this wedding band as this group of supremely talented musicians can and will play virtually any request you throw at them. What's even better is that they can actually change their line-up to suit your event. Just looking for background music? Cool. After a 13-piece party band? Sure, why not! Jukebox really can do it all, giving you an evening of dancing you'll never forget.
Website | Facebook | Twitter | Instagram | YouTube
---
The Wedding Festival Company – Wedding Festivals
For a full-on alternative day/night/ENTIRE WEEKEND of flipping excellent wedding fun, you can create an entire festival dedicated to celebrating your dream "I do". The Wedding Festival Company work with the UK's best suppliers to help you build your own mini-Glasto complete with overnight glamping, music stages and drinks tents. Truly different, truly unforgettable. Now somebody get me the Foo Fighters on the phone…
Website | Facebook | Pinterest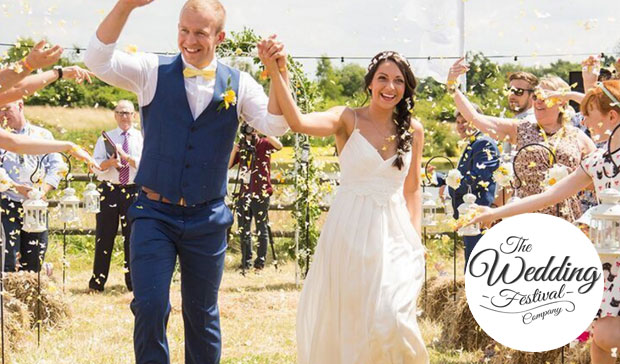 ---
The Roving Artist – Silhouette Artist
We're all familiar with the work of caricaturists but if you've not seen a silhouette artist at work before then you are in for a treat! Using techniques that were first established back in the Victorian era, The Roving Artist's team of creatives can cut an eerily accurate and personal depiction of your wedding guests in moments, making a real buzz and keeping the energy high when they first arrive at your chosen venue.
Website | Twitter | Pinterest | Instagram
---
Streetwise Soccer – Portable Football Activities
Unleash your inner Lioness in a wedding dress by hiring some of Streetwise Soccer's amazing football activities. This isn't the beautiful game as you know it, but hilarious inflatable games that even the non-sporty types amongst your guests will want to have a go at, including an inflatable target shot and the crazy mash-up of foot pool. Plus, you can even have a freestyle footballer turn up to mesmerize the groomsmen with his/her silky skills while you have your pick of the wedding buffet.
Website | Facebook | Twitter | Instagram | YouTube