North
PicMe Photo Booth – Photo Booth
PicMe's funky photo booths will have you throwing on a Viking helmet and a pair of Dame Edna Everage glasses for some of the most unusual wedding photography you've ever seen! This is a great alternative to the wedding guestbook as instead of a load of signatures, you've got hilarious pictures of your nearest and dearest that you can treasure for years to come.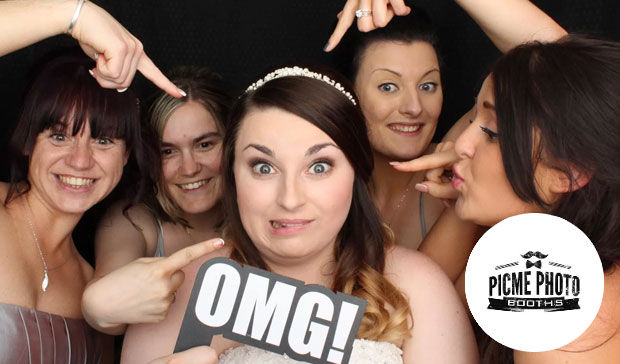 ---
Last Anthem – Wedding Band
If you're looking for a band who can confidently rock your wedding from start to finish, then it's time to give Last Anthem a call. This spectacular four-piece band create a fantastic party atmosphere throughout the day with a big sound for your wedding reception. And with hits from Bruno Mars, Pharrell Williams and Kings of Leon, you can almost guarantee a full dance floor and possibly a cheery singalong!
Website | Facebook | Twitter | Instagram | YouTube
---
Northern String Quartet – String Quartet
For a touch of true sophistication then add the Northern String Quartet to your day. They'll certainly be an elegant touch that your guests will love. What's more, the quartet can play throughout your wedding breakfast too, creating a wonderful ambiance for such a special occasion.
---

---
Hipswing – Mobile Dance Floors
You've got your wedding reception venue booked, but there's the small issue that there's no actual dance floor in place for your guests to do their best conga line on. That's where Hipswing leap into action, setting up their amazing mobile dance floors (some of them can even light up!) no matter which venue you've chosen. They can also add some gorgeous light installations creating a vibrant party atmosphere late into the evening.
Website | Facebook | Twitter | Instagram | Pinterest | YouTube
---
Luke Howells – Magician
If you're trying to think of unique ways to surprise your guests on your special day, then Luke Howells could be your solution. Luke is a gifted magician who will leave your closest friends and family gobsmacked with stunning, cheeky and OMG range of slight of hand (although we've convinced it's genuine magic!). After arriving, he'll quickly integrate with the rest of your attendees but will soon become a hot topic of conversation as people try to work out "Just how the hell did he do that?".
---
WDC Entertainment – Wedding DJ
The leading man behind WDC, Dominik Sobanski, is a superb DJ with experience working with Radio 1, Capital FM and Galaxy FM, so you know when he takes to the decks on your wedding day, he's got all the skills in his locker to keep your wedding guests grooving all night long. Plus WDC work with you to help create a perfect playlist for your reception. Let's dance!
Website | Facebook | Twitter | Instagram | YouTube