These fabulous bridal boutiques are here to help you say, 'yes to the dress'. Whether you're looking for a backless beauty, a princess dress or something perfectly you and utterly unique, these wedding wonderlands have your dress just waiting for you to claim it. So, put down the wedding magazine, grab your mood board and Uber it to one of the 50 Best UK Wedding Dress Shops of 2018.
Find your nearest Top 50 Wedding Dress Shop…
---
London
Belle and Bunty

Belle and Bunty is a 'No bridezilla zone', taking those pre-wedding nerves and drowning them in a sea of calming beautiful dresses created by Alice and Hannah, a team of London College of Fashion trained designers who took one look at the market and thought, 'Brides deserve better'. So, they went to work, and a good job it is too otherwise hundreds of happy brides would be missing out on their beautiful made-to-order dresses lighting up the UK's prettiest wedding venues.
Website | Facebook | Twitter | Instagram | Pinterest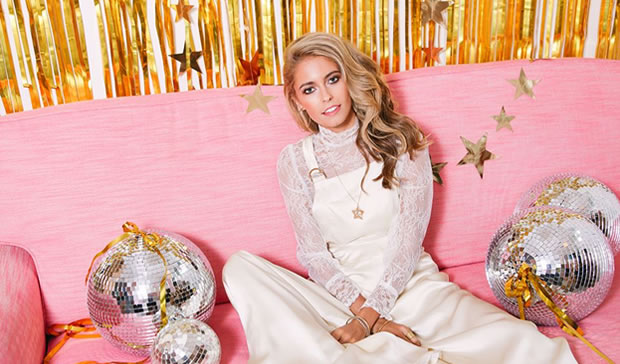 © Belle and Bunty
---
Minna Bridal

Why follow trends? Minna Bridal want you to go your own way on the happiest day of your life and pick a dress that speaks to you and your unique personality. With this in their creative minds they've developed a simply stunning collection of dresses based on what their brides have told them they like. The result is an incredibly inclusive variety that can be made to order, suiting every bride from their tiara down to the ground.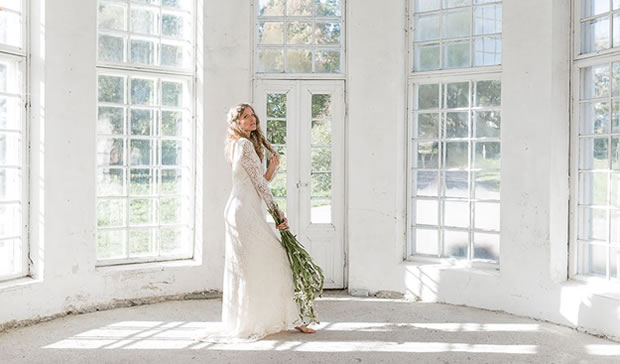 © Minna Bridal
---
Kate Edmondson Bridal Couture

Kate Edmondson has worked with some of Britain's leading designers for over 20 years, so it's little wonder that when she turned her attention to making wedding dresses, they ended up being absolutely drop-dead-gorgeous. These gowns are created in a trendy vintage style with a few of Kate's modern twists thrown in for good measure and we heartily recommend you book an appointment at her studio to see these beauties for yourself.
Website | Facebook | Twitter | Instagram | Pinterest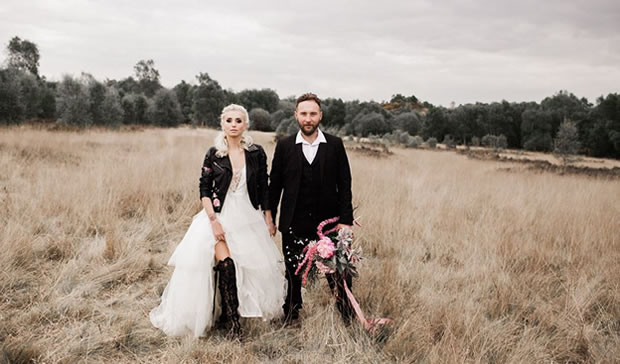 © Kate Edmondson Bridal Couture
---
Halfpenny London

A renowned name amongst bridal boutiques across the nation, Kate Halfpenny's beautiful creations have been worn in some of the UK's most amazing wedding venues. A truly brilliant designer with an eye for capturing the unique curves and body shapes of her brides-to-be, her collections are wonderfully versatile and look out of this world whether you're gliding down the aisle or throwing shapes on the dance floor at your reception. The only bad thing is at some point, you'll have to take it off.
Website | Facebook | Twitter | Instagram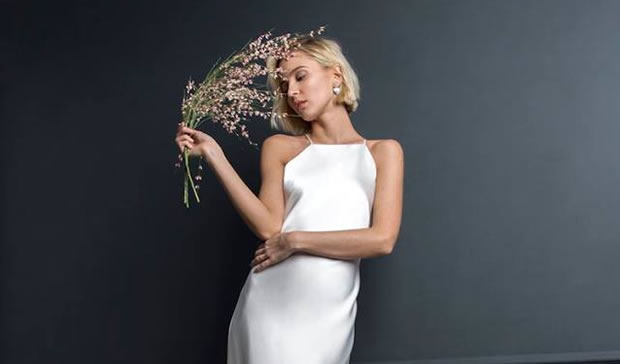 © Halfpenny London
---
Suzanne Neville

An alumni of London's famous College of Fashion, Suzanne Neville has been taking the wedding industry in a storm of lace, silk and figure-hugging design since 1991. What amazes us about Suzanne is her ability to read the trends and always stay one step ahead of the game, looking for the next innovation to make her outstanding dresses shine in the crowd. And then there are her beautifully constructed bodices… (*flappy hands, holding back the tears*).
Website | Twitter | Instagram | Pinterest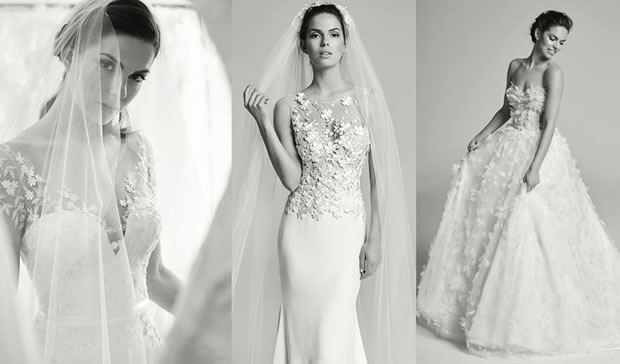 © Suzanne Neville
---
Amanda Wakely

If you've got a penchant for fashion, then Amanda Wakely is a mecca of the UK's trendiest wedding gowns. Having created a full collection of beautiful designs for you to pour over, stepping into their bridal boutique feels like you've wandered into a high-end fashion house, working at the cutting edge of the industry, putting their own spins on the classics and innovating the trends of the future. In fact, we don't think it'd be too outrageous to say that the dresses you see in here could be the next 'big thing'.
Facebook | Twitter | Instagram | Pinterest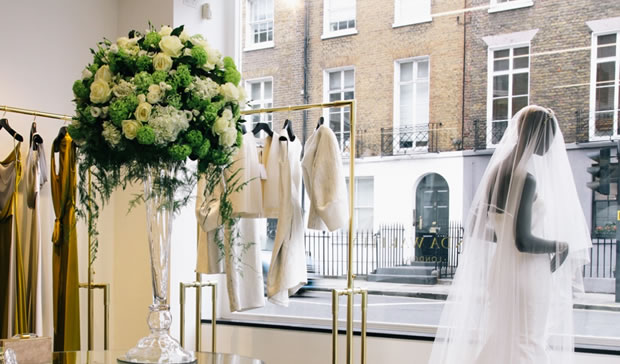 © Amanda Wakely
---
Morilee by Madeline Gardner

The 'normal' wedding gowns just aren't cutting it for you. Because you aren't like every other bride, but Madeline Gardner isn't like every other dress designer. This fabulously creative and forward-looking collection does things to the traditional bridal gown that you wouldn't imagine in your wildest Pinterest-induced daydreams. You can look (and feel) like a true princess on your special day and keep your personal favourite to look back on long after all the confetti has settled.
Website | Facebook | Instagram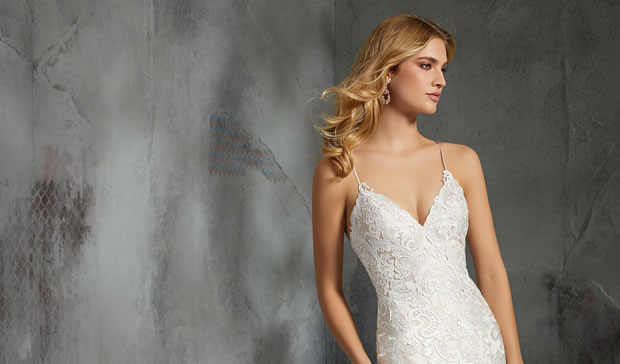 © Morilee by Madeline Gardner
---
Ellis Bridals

Now THIS is what romance looks like in wedding dress form. Taking the classic look and feel of traditional gown designs and updating them for 2018 isn't anywhere near as easy as it sounds, but the super talented experts behind Ellis Bridals make it look effortless, sublimely weaving the sleek lines and flowing trails of yesteryear with the gorgeous embroidery and lacework that's become so popular (for good reason) in recent times. If you're looking for a wedding dress that will make your guest's jaws hit the floor, then Ellis Bridals is the place to go.
Website | Facebook | Twitter | Instagram | Pinterest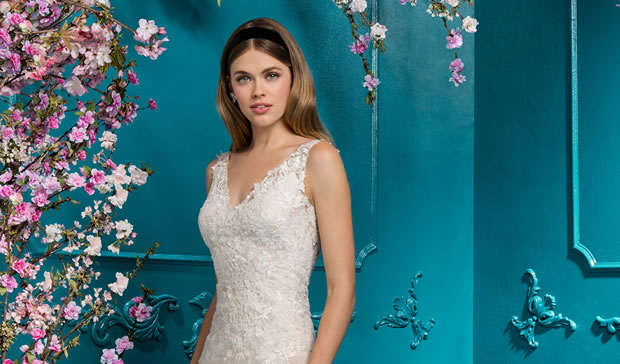 © Ellis Bridals