Scotland
Stems – Innerleithen
Stems speaks Mother Nature's language. If you tell her your style, wedding theme or ideal colour scheme, this flower fairy will translate it into floristry language and do her best to make your dreams flourish! And, judging from her multiple awards, brides have not been disappointed! If you're looking for some inspiration, check out Em's large portfolio of designs and prepare to be inspired… Her wedding barns and marquee decorations are the stuff of dreams!
---
Floral Menagerie – Glasgow
Stressed-out wedding planners can sit back, relax and enter a tranquil petal paradise as Floral Menagerie organise everything from inspiration to installation. Lisa studied art history and went on curate museums and exhibitions, so it's no surprise that she truly has an eye for style when it comes to floral arrangements and displays. She offers both fresh flowers and artificial flowers for those who want both Lisa's designs and memories of their big day to last forever!
---
Oor Fleurs – Glasgow
The Mr & Mrs flower-power couple have been delighting Glaswegian brides and grooms for years. From suspended floral arches to stunning flowers and foliage that climb the walls, their creativity really knows no limits. Rhys and Kayloe truly understand the huge part flowers play in how you chose to set the tone on your big day. In their own words, they 'make the wedding venue feel like your own and uniquely different from every other wedding beforehand.' This is a day to celebrate all the happy couple represent, and with Oor Fleurs, you couldn't be in better hands!
---
Stucio & Waow – Glasgow
You know that feeling you had as a little girl when you'd look through your mum's jewellery collection or boxes of beads and buttons, totally overwhelmed and excited by the beauty of it all? That's how we feel when we look through Stucio & Waow's portfolio! Picking flowers for your wedding couldn't be more exciting! Mellow yellow bouquets, burgundy bunches, blue crowns and rustic, amber décor, they create floral designs that complement the radiant couple beautifully.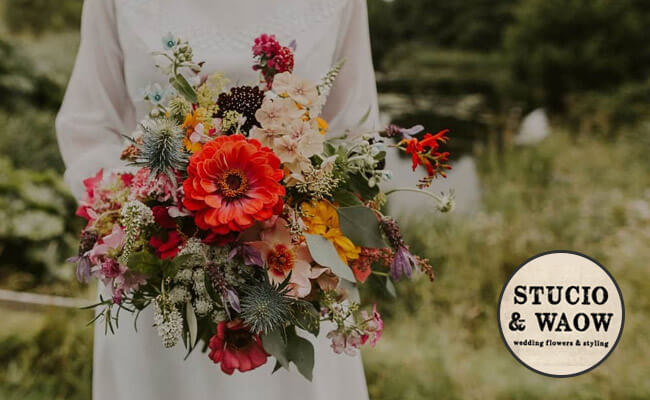 ---
Poppy Floral Design – Glasgow
Without flowers, the world would be a duller place, so it only makes sense that you have the best of the bunch to add that extra something to your wedding. So, who better to turn to than Poppy Floral Design, an award-winning florist who thrives off creating floral designs that suit you. Working throughout Scotland, she creates plans to suit your style and your budget, so you don't have to cut back on the appetizers just to make way for the bouquets!
---
The Diamond Bouquet – Auchtermuchty
'Diamonds are a girl's best friend' and, once you've browsed through their portfolio, The Diamond Bouquet will be your best friend! Many Scottish weddings are held in the ancient Scottish castles and prestigious hotels, fit for princes and princesses, and we can't think of a finer florist to decorate these impressive wedding venues than The Diamond Bouquet. They've created opulent displays for first-class corporate clients, and many a happy bride and groom, and we absolutely adore them!
---
Mood Flowers – Glasgow
At mood flowers, the specialists work with you throughout the entire process to get the right look, whether that's urban chic, romantic country, or classic, contemporary styling. Weddings are a time for celebration, and their incredible, beautiful displays reflect that! They work with colour schemes to match your personal taste and help you celebrate your big day in style. After checking out their weddings, you'll certainly be 'in the mood for dancing, romancin'!'
---
Aberdeen Flowers – Aberdeen
'She was the flower of Belton and the rose of Aberdeen…' Simon & Garfunkel said it first! Based in the beautiful Scottish city, these florists bloom brightly as they supply the happy nearly-weds with their stylish, colourful bouquets. Wild, dainty, or highly stylised, they have blossoms to suit all brides! 'Will you take thee, Aberdeen Flowers, to offer an excellent service and deliver an abundance of elegant flowers on your big day?' 'I do!'