Wales
Judith Bond Cakes
Judith happily describes cake as her "First love" and the world and her North Wales corner of it is certainly a better place for her everlasting passion. Bringing her love for flora and a bold and fun feel for colour, Judith and her team have created some spectacular cakes putting them once again in among our favourite bakers and designers.
---
Wish Upon A Cupcake
The fantastic duo of Carly and husband Andy have been delighting happy couples since 2011. As well as their show-stealing cupcakes, their grand creations, towers and dessert tables have cemented their reputation as one of the most creative cake designers. But it's not just the cakes, the quality of customer service and a legion of happy customers speaks volumes.
---
The Cake Cwtch
For the non-Welsh speakers among you, a 'cwtch' is a cuddle, bringing even more romance to the cakes lovingly designed by the talented Anna. A veritable one-woman show, Anna is rightly proud of her very personal service where all her cakes are tailored to her lucky couples. Proving that it's not just the big names that get recognition, she's a worthy addition to this year's Top 50.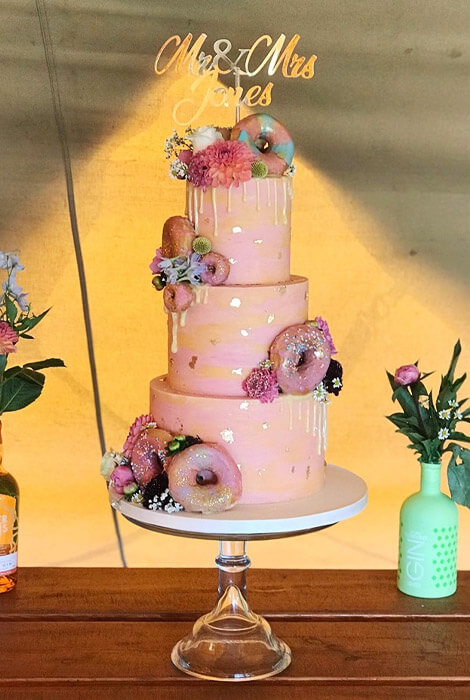 ---
Ponty Carlo Cakes
There are many reasons to visit the beautiful area of South Wales, our personal favourite has to be Ponty Carlo Cakes. Vintage suitcases, cupcake towers, flowers, casinos, lace jewels and everything in between, but the real proof of the talented Lisa's cakes is definitely in the eating and they are every bit as wonderful to taste as to look at.
Website | Facebook | Instagram
---
Scrum Diddly Cakes
Without a doubt, one of our favourite names for any shop ever, Scrum Diddly are an award-winning design house with a true passion for baking. The brainchild of Michelle Walker working out of her Mumbles studio, Michelle produced some of the finest sugar work we saw in 2019 with her new, differently touching, poignantly bold and daring designs.
---
The Vale Cake Boutique
Award-winning designer Zoe O'Sullivan burst onto our radar this year with her contemporary and daring designs. Big colours, bold flavours and a fabulous cake gallery (hit Instagram to see more) has made Zoe one to watch for the future and a great choice to round off this year's Top 50. If only someone could distract her while we deploy our extra-wide tasting fork!
---