Laurel Weddings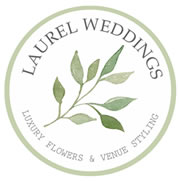 Award-winning. Timeless. Unforgettable. What Laura McPherson does with flowers is simply incredible and is best seen on her fantastic blog which just so happens to feature plenty of real weddings, expert advice, floral inspiration and venue dressing ideas from one of the UK's best event stylists. Fact – Her chic bouquets will fill up your Pinterest boards surprisingly quickly!
Website | Facebook | Twitter | Pinterest
---
Love My Dress
Annabel Beeforth's stunning wedding blog is one of the most celebrated reads of its kind on the web for good reason. Nobody else covers the art of the bridal gown in quite as much detail with addictive writing, gorgeous photography and up-to-date coverage on the latest trends, styles and themes to look out for in 2017. All of which is showcased in sensational real weddings, telling the love stories of some of the world's prettiest brides.
Facebook | Twitter | Pinterest | Instagram
---
Fly Away Bride
Lindsay and Amy Moynagh salute brides and grooms-to-be travelling abroad to tie the knot with their fabulous wedding travel blog Fly Away Bride, and may well inspire you and I to do the same! The featured destination weddings are like something out of a film with sun-soaked photography, stunning brides and jaw-dropping locations in the likes of Croatia, Italy, Greece, France, Spain and many more.
Facebook | Twitter | Pinterest
---
Rock 'n Roll Bride
Kat Williams' uh-mazing blog is truly one-of-a-kind. There simply isn't anywhere else you can find as many alternative brides and their unbelievable weddings for you to browse at your pleasure. And we don't use the word "unbelievable" lightly. We're talking about everything from "I do's" featuring giant dinosaurs to tattooed nautical ceremonies and a steampunk Alice in Wonderland wedding well worth falling down the rabbit hole for.
Website | Facebook | Twitter | Pinterest | Instagram
---
Bridal Musings
Obsessed with weddings? May we present you with Elizabeth Muhmood Kane & Claire McGowran's gorgeous Bridal Musings, a stylish international blog celebrating every beautiful aspect of your walk up the aisle and all the perfect details of being a bride-to-be. Editor Claire's showcased real weddings are the stuff of dreams, but it's the carefully curated lists that we love her for, featuring unique touches for your outfit as well as seriously sexy bridal lingerie for the evening.
Website | Facebook | Twitter | Pinterest | Instagram
Header image sourced from
here.
© Becka Pillmore Photography
---

---
Whimsical Wonderland Weddings
Louise Baltruschat Hollis' perfect Whimsical Wonderland Weddings stands out with vibrant colour, stunning imagery and wonderfully friendly writing that makes you feel as if you're sat down with her, drinking a coffee and perusing her personal wedding scrapbook. And as if her detailed guides and bright ideas for your special day weren't enough, her real bride diaries are a hilarious (and reassuring) reflection on the insanity of wedding planning!
Website | Facebook | Twitter | Pinterest | Instagram
Header image sourced from
here.
© Hanh Made Films
---
Festival Brides
Sometimes brides can't just settle for one night of dancing – for a real bridal knees-up, you need to plan a flare-wielding, decks spinning, gazebo shaking wedding festival. That's where Laura Dunstone's one-of-a-kind blog comes in, showcasing real brides who go all-out in their pursuit of their dream wedding and giving you tips based on her first-hand-experience on how you can do the same. Viva la Festival Brides!
Facebook | Twitter | Pinterest | Instagram
---
Cwtch the Bride
Celebrating all things bride and beautiful on the west side of the Severn, Cwtch the Bride is the perfect resource for Welsh weddings in the build up to your walk down the aisle with heart-warming diaries written by real brides-to-be as well as Maria Farrelly's incredible "Lush List" – an amazing collection of the best bridal accessories, cake designs, dress styles and more.
Website | Facebook | Twitter | Pinterest
---
French Wedding Style
Whether you're thinking of hopping the channel to tie the knot in romantic France or you're just looking to incorporate a little je ne sais quoi into your bridal celebrations, French Wedding Style is the perfect guide to planning your "je fais" in style. Monique's fashion guides and amazing wedding directory are expertly curated while her real weddings in the French countryside and elegant châteaux are to die for.
Website | Facebook | Twitter | Pinterest | Instagram
---
Mr & Mrs Unique
Need a hand finding the unique wedding suppliers you need to make your dream chic wedding a reality? This amazing wedding blog is the answer. Erica's Mr & Mrs Unique has a massive directory of independent, quirky bridal experts to explore while her tips on planning and beating the post-wedding blues are equally helpful as they are funny! But it's the real weddings on display that steal the show here – including eco-friendly ceremonies and festival-themed days in deepest Devon.
Website | Facebook | Twitter | Pinterest | Instagram