South East
Creatiques Bridal Boutique – Southsea
We love a good ethos, and Creatiques' is pretty stellar: "From the first step through the Creatiques door, to your first step down the aisle." You can be sure they're invested in finding you the perfect wedding gown, and they'll be there with you throughout your journey, to sew and support. Their stunning range of wedding dresses are all hand-picked to reflect the needs of a wide range of brides.
Address: 151 Albert Rd, Southsea, Portsmouth, Southsea PO4 0JW
Website | Instagram | Facebook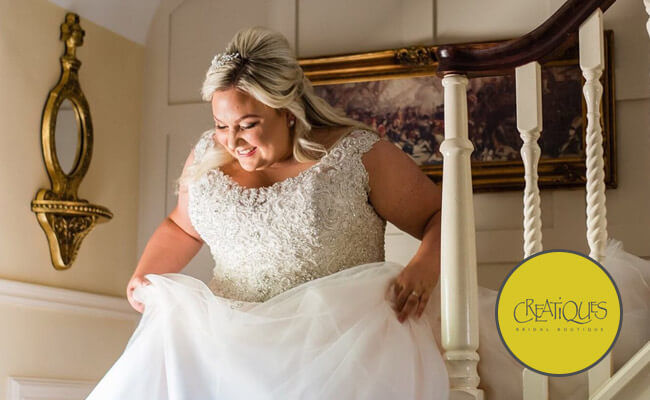 ---
The O Zone – Brighton
We're strong advocates for shopping independent, and The O Zone champion a little of this indie magic in bustling Brighton (who offer grooms-wear too, btw). Their collection expands across many different styles, from light romanticism to vintage off the shoulder wedding dresses that exude elegance. Modern brides will be glad to know that tradition is always met with a crafty twist, but we'll leave all the sneaky surprises until your appointment.
Address: 21-23 Church St, Brighton BN1 1RB
Website | Instagram | Facebook
---
Bridal Boutique At Chilham – Canterbury
Specialising in ex-sample and pre-loved designer label wedding dresses, you might think you'd have to compromise on style, but we're here to tell you that this is not the case. Luxury is at the heart of this Cantebury gem who will find your dream dress with (potentially) huge savings. Their boho wedding dresses are a particular stand out with exquisite lace detailing that can also be found on the swoon-worthy range of feature back gowns.
Sorry, excuse us, we're just busy booking train tickets to Canterbury.
Address: Bagham Barn, Canterbury Rd, Canterbury CT4 8DU
Website | Instagram | Facebook
---
Truly Bridal of Surrey – Tadworth
Shopping for your wedding look is such an exciting highlight of the planning experience. You could get stressed, or you could put your faith in a longstanding trader such as Truly Bridal who will take you willingly into their expert hands. With the stunning Surrey backdrop, you'll soon be in bridal heaven, with (easily) the country's finest offering of dreamy dresses. You'll have the store all to yourself and a collection of opulent gowns at your disposal. This is a modern fairytale in the making.
Address: 10 Walton St, Walton on the Hill, Tadworth KT20 7RT
Website | Instagram | Facebook
---
Helena Fortley – Surrey
There's a lot of pressure involved in choosing a dress, but the moment you walk into this boutique you'll breathe a sigh of sweet release. The interior is a stylish step above the rest and the friendly team are all dedicated to finding you that tear-jerker. They'll soon suss you out and delve into their extensive collection to reflect your personality in a garment. If you're wondering what's not to like, you'd be right. They've nailed it all.
Address: 16 Godstone Rd, Caterham CR3 6RA
---
Joanne Fleming Design – Brighton
Now, it's no secret that Brighton is home to some seriously cool shops, but we think that Joanne Fleming Design offers something that stands out in the eclectic town, especially in the wedding industry. The gowns often look as though they'd belong in a stunning period drama with flowing silk and sensuous chiffon. If you want to take a step back from the traditional white gown, the Jewel Hues collection is bursting with statement splendour.
Address: 9a Pavilion Parade, Kemptown, Brighton BN2 1RA
---
Isabella Grace Bridal Boutique – Royal Tunbridge Wells
Choosing a life partner will soon seem like a doddle once you start the all-important hunt for your wedding dress. But, fear not, at Isabella Grace you'll be in some of the safest hands in the biz. Their studio is a heavenly pic-a-mix of beautiful gowns in every style imaginable. It's one of the most luxurious boutiques on our hot spot list, with plush furniture and an elegant white fireplace adorned with flowers. Your experience here will be of the extravagant variety with a real emphasis on sophistication.
Address: 40 Mount Ephraim, Tunbridge Wells TN4 8AU
Website | Instagram | Facebook