Cake Designers
Astounding tiers of perfectly frosted sponge. Intricately detailed sugar flowers (that look real). Stunning adornments made of icing. Oh, and all. The. Sponge. If that doesn't convince you that The Designer Cake Company are worth a place on your Facebook timeline then check your pulse now. Don't worry if it's racing, you've probably just caught a glimpse of their cake carousel of horses.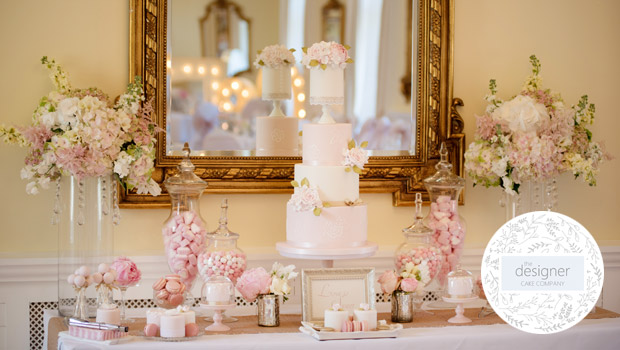 ---
Hayley Elizabeth designs cakes that could put that special sparkle in Paul Hollywood's steely eyes. From towers of sponge adorned with textured frosting, to the cascades of flowers that, yes, we can confirm are made of sugar despite the fact they look so much like the real deal, there's a real attention to detail here that makes each bake feel like its own unique creation. The best way to inject this cake-speration into your timeline? By giving Hayley's Facebook page a follow. Simples.
---
Whether you're going for a classic wedding theme and a simple yet stunning set of white sponge tiers or a more contemporary style-led day and a trendy watercolour bake decorated with flecks of gold leaf, Laura Jane can create the cake for you. Her Facebook page is an online portfolio of her finest designs and don't worry, we feel like it would be a crime to cut into them too. They look that good.
---
There are wedding cakes, and then there are wedding cakes with flamingos and pineapples erupting from their peaks. Yep, Victoria Made are something special indeed and you owe it to your Facebook timeline to give them a follow and keep in touch with all the baked brilliance. Everything Victoria Made do is done with their own dash of panache, and if that means added sugar-modelled kumquats to their incredibly realistic sugar petals then that's what they're gonna' do.
---
Melanie Todd's beautiful cakes make for the perfect centrepiece on your special day, becoming a talking point amongst your guests and take an impressive selfie before they're (sadly) cut into for all your friends and family to enjoy. Whether your personal taste is timeless, crisp tiers with sugar ruffles or a rustic bake served on a log platter, you'll be able to find a cake you love on her stunning Facebook page.