Bottle Overalls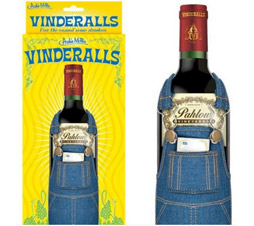 You might not arrive with the best bottle of vino to give the hosts, but at least you can present them with the best dressed. To be honest we're not sure who came up with the idea of wine bottle dungarees or why but they are simply too bonkers not to make our list!
---
Handbag Hook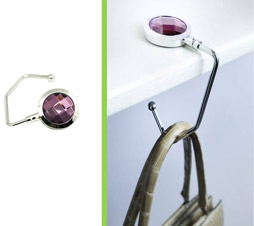 You don't really want to carry your handbag around all night, but then again you don't really fancy putting it on the floor either… What you really need is a handbag hook. We absolutely love these little gizmos that definitely come in the "simple but genius" category of handy party gadgets we really wish we'd thought of. The hook fits onto surface, table top or chair and folds away neatly to the size of a compact.
---
Pop Up Wine Glass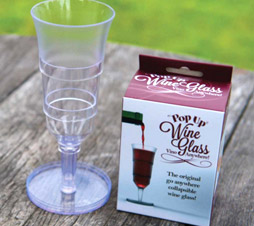 Can you imagine the horror of being offered wine only to find there are no available wine glasses? Don't become a victim to this terrible party tragedy, always travel prepared with your own pop up wine glass. "Would you like…?" "Well yes I would, I've even got my own glass, thank you kindly!"
---
Selfie Stick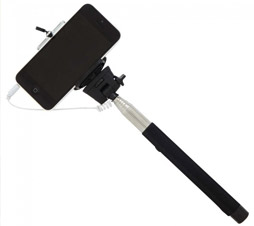 Ok, yes we know they are thoroughly derided by some but there really is so much fun to be had with a selfie stick, plus you can get some amazing photos without having to hand your phone over to a complete stranger. So on the selfie stick debate we're most definitely in the yes camp and think they are vital for capturing those precious party moments.
---
Wine Glass Bottle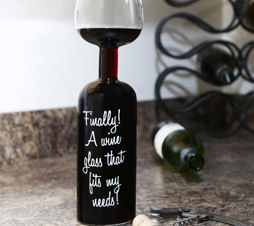 While to the untrained eye this might look like a fun novelty item, we recognise it as a vital, party necessity that you should never leave home without.
---
Wine Wipes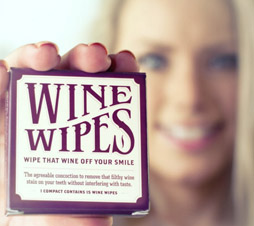 Another really handy handbag accessory to help end the wine stain worry. Red wine drinkers need no longer hide their smile for fear that their teeth make them look half party girl/half vampire. This fantastic little compact pack contains 15 wipes and has a handy mirror on the bottom, plus they don't leave a taste between glasses. But then who would be 'between glasses'? (Please refer to the Wine Glass Bottle above for putting an end to Between Glasses Syndrome).
---
Coffee Filter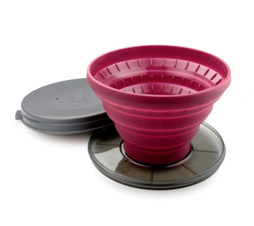 As the evening draws to a close, it's time for a little nightcap before heading home and the only available caffeine fix is granulated! Rather than reel back in horror, simply produce your own pop up coffee filter. Some people might say being that precious about coffee is a tad unnecessary. We'd recommend you don't make eye contact with those people, they clearly know nothing! Unlike the brilliant crew at GirlsTravelClub.co.uk.
---
Eye Cooling Mask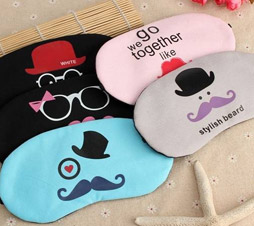 Once the party's over you might well find yourself having a little shut eye (or even halfway through the evening, if you get trapped in a corner by someone who wants to talk about house prices or how her 'ickle Baby George" is getting on with his potty training). These ice cool eye masks from BangGood.com are the first line of defence against puffy morning panda eyes (and boring new mums talking about baby bowel movements). See more at BangGood.