Weddings are always such civilised affairs, everyone travels to your 'out of the way' event, the guests smile and say all the right things in all the right places but what are they really thinking?
From "I do" to "Do we have to?" GoHen gathered statistics from 2,500 women to find the 'must haves' and the 'Oh you really shouldn't haves… seriously, you shouldn't have' of keeping wedding guests happy.
So if you're currently planning your big day you might want to consider what your guests might really be thinking…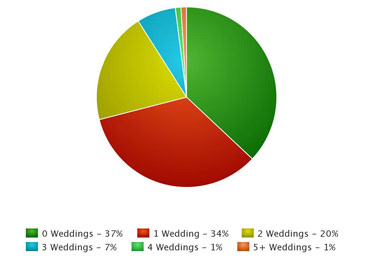 How many weddings did you attend this year?
• 1 – 37%
• 0 – 34%
• 2 – 20%
• 3 – 7%
• 4 – 1%
• 5+ – 1%
23% of guests admitted to wishing they could have turned down a wedding invitation.
"Oh I don't mind going to weddings, just as long as it's not my own." – Tom Waits
Guests favourite aspect of weddings is meeting up with friends and family. Free food is also very popular so don't go charging them at the buffet.
Guests favourite things about weddings are…
• Meeting up with friends and family 39%
• A chance to dress up 18%
• Having a few drinks 16%
• Free food 12%
• Going somewhere different 10%
• Live band 3%
• Other reasons 2%
If you don't want to upset your guests then having your wedding close to home with a good DJ and maybe not an open bar. And don't overdo the gift list.
66% of people attended at least one wedding in 2016.
Funniest/best things guests saw at 2017 weddings…
• The groom and best man doing the routine from dirty dancing with the best man dressed as Baby.
• A wedding in a barn with no seating plan and bales of straw instead of seats.
• A groom who learned to play guitar to sing for the bride at the reception.
• Festival themed wedding with camping in tents for the guests.
• A rubber duck race.
• A wedding close to the Bournemouth air show and the Red Arrows flew overhead on the I do's.
• And our favourite…
• The groom who made a necklace for the bride from a stone they collected on the beach when he proposed.
"Weddings are never about the bride and groom, weddings are public platforms for dysfunctional families." – Lisa Kleypas
Weirdest/worst things guests witnessed at 2017 weddings…
• A guest telling the whole congregation she's divorcing her husband of 5 weeks.
• A toilet seat as a present.
• Cardboard cut-out of the couple's cat at the altar.
• Best man speech/rap.
• Star Trek themed wedding.
• Guest arriving late & not realising till bride & groom were married that they were at the wrong wedding and that they should have been at the town's other church.
• The bride and groom leaving after just 2 hours saying 'enjoy the rest of the day'.
"I love being married. It's so great to find that one special person you want to annoy for the rest of your life." – Rita Rudner
The biggest weeding turn off were…
• Travelling too far 27%
• People having too much to drink 23%
• Bad DJ 18%
• Meeting up with family and friends 10%
• Having to spend too much on a gift 9%
• Other 3%
Other wedding turn offs include; waiting around, bad speeches and being a bridesmaid.
52% of wedding guests have spent more on a gift than they wanted too.
Weddings can be expensive for guests especially for those having to travel long distances to be there but 17% of people say they don't mind the cost.
What's the one wedding cost you'd rather avoid?
• Paying for a hotel room 33%
• Expensive Drinks 31%
• I don't mind the cost 17%
• Travel 11%
• Buying a gift 7%
• Other 1%
The Hen Party
And it's not just the wedding, for the bride's closest female friends and family there's also the hen party…
What would be your dream hen party destination?
• New York 26.9%
• Las Vegas 19.4%
• Rome 9%
• Dublin 8%
• Dubai 8%
• Paris 8%
• Ibiza 8%
• Venice 4%
• Other 9%
Other dream destinations included Benidorm, Hawaii, Marbella, staying home and Great Yarmouth.
What's the best thing about a hen party?
• Meeting up with friends 71%
• Having a few drinks 11%
• Going somewhere new 8%
• Doing a new activity 4%
• Playing funny games 2%
Top 5 most popular hen party destinations in 2016
UK

Bath
Liverpool
London
Cheltenham
Brighton

International

Barcelona
Dublin
Valencia
Amsterdam
Madrid
Top 5 most popular hen party activities in 2016
• Cocktail mixing
• Life drawing
• Afternoon tea
• Male strip show
• Burlesque dancing
Average amount spent per hen
• £107 – £147
Average group size
• 14 hens
If you would like further information or statistics on hen parties and future hen party trends, then please contact our team – hen@GoHen.com.
---