London
The Real Flower Company – Chelsea
One of the things to love and admire about The Real Flower Company (and there are many) is the fact that they grow their own roses, herbs, flowers and foliage at their own sustainable farms, so that's green fingers with green credentials. Flower farmers, flower artists, eco good guys and all-round blooming wizards The Real Flower Company are one of the biggest names in wedding floristry.
Website | Facebook | Instagram
---
Flower Station – Marylebone
Starting from humble beginnings (a former petrol station on Park Road), Flower Station's dedication, passion and customer service has led them to become one of London's foremost florists. From simple traditional ceremonies to grand scale, lavish affairs, Flower Station's team of experts have created bespoke floral designs across the capital and around the UK and continue to go from strength to strength.
Website | Facebook | Instagram
---
Neill Strain – Belgravia
With more awards than there are petals on a peony, Irish born Neill Strain and his team work with an elite clientele from their Belgravia store or in Harrods (illustrious indeed). This is living art on another level with whimsical, magical and often magnificent masterpieces that really do take your breath away. Like a Dutch painter, Neill uses the blooms of Holland to transform English venues like few others can.
Website | Facebook | Instagram
---
Zita Elze – Kew
As Floral Artist in Residence for no less than the RHS Zita's credentials really do speak for themselves. One of the very best of the best, Zita's light certainly won't be found hiding under a bushel, working just a petal's throw from Kew Gardens, Zita runs her very own design academy to help pass on her talents to the next generation of floral artists. If there is such a thing as floristry royalty Zita Elze might well be considered queen.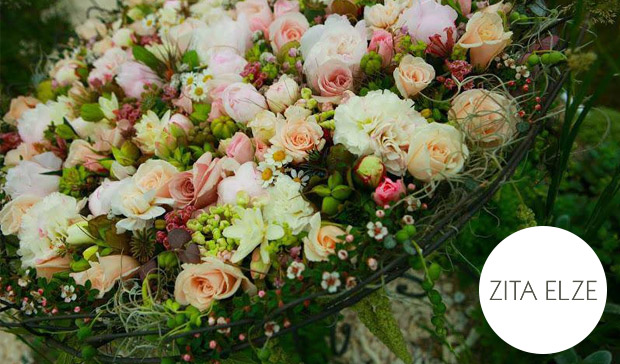 ---
Appleyard Flowers – Shoreditch
Having had work appear in House & Garden, Harper's Bazaar, Vogue and many more, Appleyard Flowers are our top pick for a small-scale London wedding. Sourcing their flowers from British growers wherever possible their boutique designs are 'more than just flowers, they're hand tied luxury' that really will lighten up any intimate wedding space.
Website | Facebook | Instagram
---
McQueens – Bethnal Green, Mayfair
Want flowers with a touch of rock star glam, McQueens should be your first port of call. From buttonholes to towering floral arches, Kally Ellis and her team are master craftspeople with premises in Bethnal Green, Claridge's and New York. Indeed their blooms are so in demand they even supply flowers as far afield as Hollywood and Japan. McQueens are A-listers of the wedding flower world.
Website | Facebook | Instagram