Travelling light is a tricky thing to nail.
Especially when it comes to packing hand luggage only.
Getting all your travel essentials inside one small bag can be challenging… but it is possible!
Not only does it make travelling more comfortable, but it also saves you time and money.
And who doesn't want that, hey?
So, here are our top tips on how to pack hand luggage only when travelling…
Check it out!
What Makes GoHen Hand Luggage Packing Experts?!
Look. We've been arranging hen parties abroad since way back in 2002.
We've seen and been on our fair share of hen weekends which have been exclusively hand luggage affairs.
From packing for the sun of Spain to the snow of Estonia, we've crammed everything and anything into our carry on luggage.
In 20 plus years, we've most definitely refind our packing down to a fine art.
First Things First, Nail the Bag!
It's important to choose the right bag before you even consider packing anything.
Be sure to check with the airline you're flying with to find out the specific rules for the size and weight of the bag.
We've found some great carry-on bags which are the exact size for some popular airlines. You can maximise the allowance and pack your hand luggage efficiently.
Make a Packing List
Before you begin packing, we'd recommend making a list of all the essentials that you'll need to bring on your trip. This will help you stay on task, help to avoid overpacking while ensuring you don't forget anything important.
If you're heading on a hen party check out GoHen's ultimate hen do packing list before you start.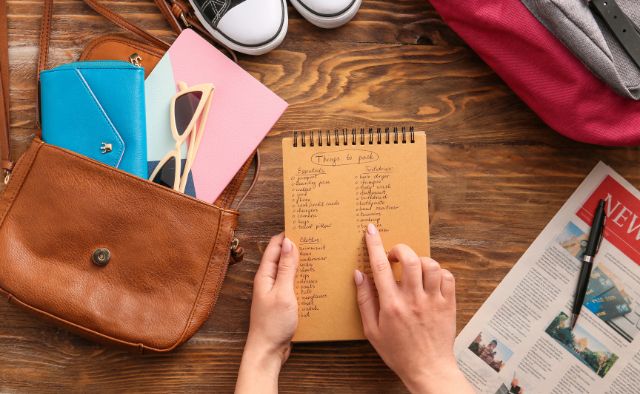 Pack Versatile Outfit Options
Choose clothes that can be mixed and matched easily to create different outfit options. This way, you'll be able to pack less, but still have a variety of clothing options. Win-win!
Roll and Fold
If you're packing hand luggage only, you're going to want to maximise the space that you have available. We'd suggest folding more sturdy pieces and rolling soft items to fit around the gaps. So essentially, put smaller items in the gaps and fold items over the top… think Tetris!
Use Packing Cubes
Packing cubes are a game-changer when it comes to organising your hand luggage. Use them to separate your clothes by category, such as tops, trousers, and underwear.
These small containers are not only great for decanting liquids before security at the airport, but they're also very handy for putting small pieces of jewellery inside. It's a great way to avoid losing anything and makes unpacking a breeze, too!
Wear Your Heaviest Items
To save space in your bag, we'd recommend wearing the heaviest items while travelling, especially if you're going to a cold destination as you will most likely appreciate the space for some extra layers.
Travel-Sized Toiletries
Buying travel-sized toiletries is an excellent shout before getting to the airport, however, they can be expensive. Why not transfer your regular products into some 100ml travel bottles to save on space?
Use Compression Vacuum Bags
These bags are MAGICAL!! Simply put your bulky jackets, coats, and jumpers inside and use a vacuum to compress everything. Watch the space in your bag reappear before your very eyes.
Use Your Shoes!
If you're taking an extra pair of shoes (or two, if you're lucky) in your hand luggage, we recommend packing smaller items such as socks or underwear inside them to maximise this space.
Neck Pillow Hack!
We all love to be comfortable while travelling.
So, why not use this incredible hack to create a neck pillow that's not only super comfortable but also helps to make packing your hand luggage a breeze?
Check it out!⬇️
Packing hen luggage only might seem like a daunting task.
But if you use these useful tips and only pack the essentials, you can save time, money, and lots of hassle during your travels.
So, the next time you're packing for a trip, why not challenge yourself to pack light and give these tips a try?
Happy travels!☀️