London. The coolest city in the UK? Europe? The World…? We're not really asking, it's the coolest city this planet has ever laid eyes on, and when it comes to the best Instagrammable places in London, you are spoilt for choice with iconic landmarks, quirky sights and sensational buildings to flood your Insta feed with.
Now, London is massive (if you hadn't noticed), so you may not complete the whole list in one visit, but we thought we'd just showcase the highlights and you can pick and choose your favourites. Not only have we selected some of the classic tourist hotspots you've probably already heard of, but we've also gone and found some alternative sights for something a little different.
The Classic London Instagram Spots
1. Tower Bridge
We can't get over how stunning Tower Bridge is – yep, that was a bridge pun, we hope it didn't take its toll (Two!! Not sorry!). Located adjacent to the Tower of London, this iconic structure is photogenic from all angles, including down by the river, but you can also head up to the top and stroll along the walkway which boasts stunning views across the city's skyline!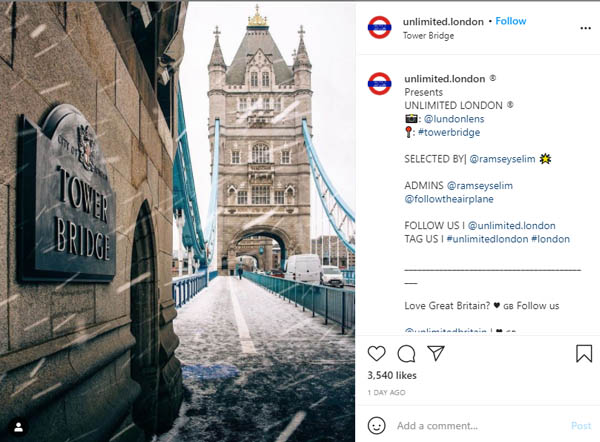 How to find Tower Bridge
---
2. St Paul's Cathedral
Christopher Wren's sublime creation is London architecture at its finest and a surefire Insta-winner. Whether you're capturing the outside or heading indoors, you'll be spoilt for choice for which photo to upload (you may just have to spam Instagram with hundreds of pictures – oops!).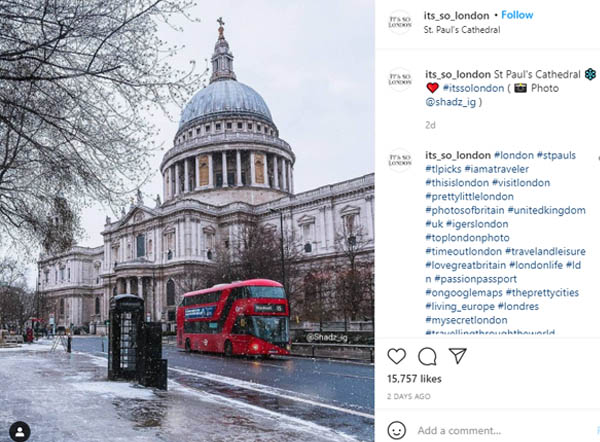 How to find St Paul's Cathedral
---
3. London Eye
We could start every sentence of this article with 'Another iconic London landmark…', but, the fact of the matter is, the city is covered in them. You can't turn a corner without bumping into a statue, building, palace or massive spinning wheel! We're not even gonna bother saying why the London Eye is a must-see – you just have to!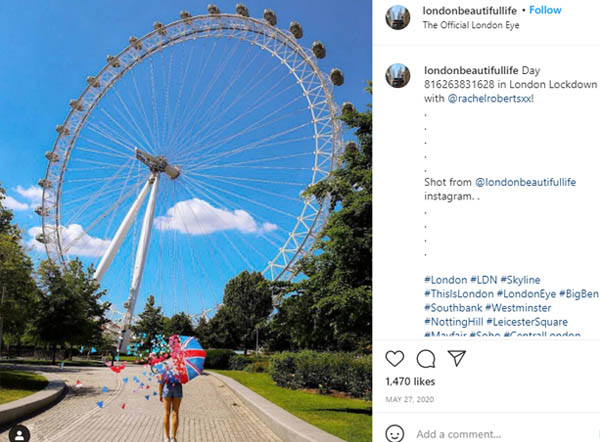 How to find the London Eye
---
4. National History Museum
By day, this impressive building houses some remarkable exhibitions, including the skeleton of a blue whale hanging from the ceiling, and, by night, if films like Night at the Museum are anything to go by, all the displays will come alive run riot which will make your story pop!*
*The second half of the statement may or may not be true.**
**It isn't true.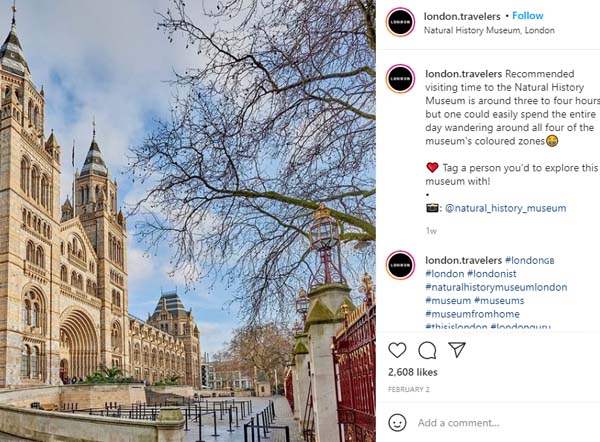 How to find the National History Museum
---
5. Buckingham Palace
The royal residence is a bucket list ticker. You don't really get much more Instagram-worthy than a palace. If you've never been, you should head there for the Changing of the Guard.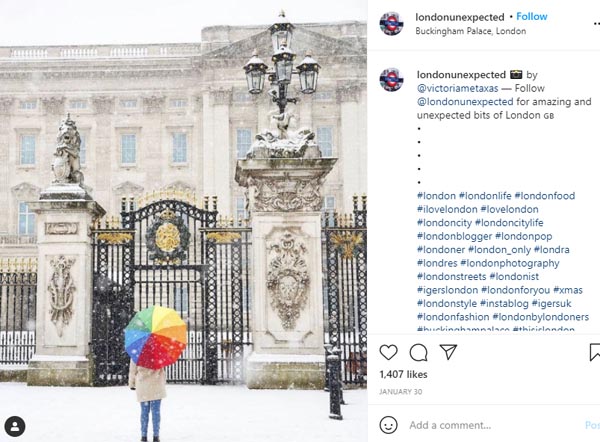 How to find Buckingham Palace
---
6. Westminster Abbey
We've said it before, we'll say it again: Wherever you stand with churches (literally and figuratively), there is no denying they are stunning buildings. It's also right by the Palace of Westminster, Houses of Parliament and Big Ben, so you may as well wander around and see it.

@_gabrielbailey_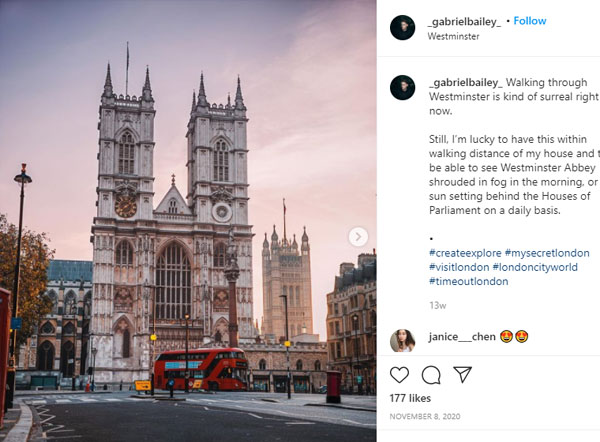 How to find Westminster Abbey
---
7. Big Ben
Pinch your nose and say the following: 'Umm, actually, I think you'll find Big Ben is the name of the bell in the clock tower, not the whole building…' *Yawn* When we say Big Ben we're talking about the world-famous structure which has become a global symbol for Britain. Tick it off!

@loves_bigben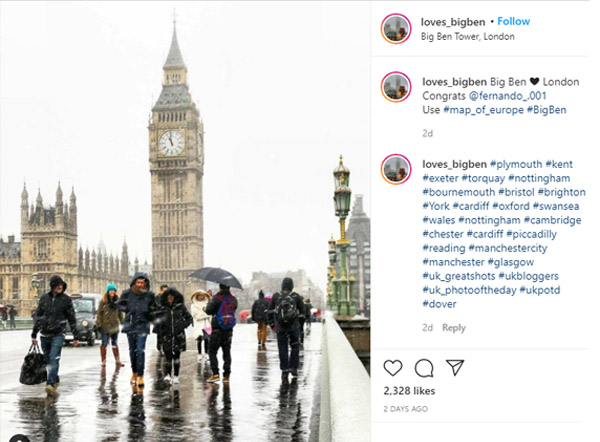 How to find Big Ben
---
8. The Shard
If you're looking for something a little more sleek and modern to snap for your Insta-feed, you'll be hard-pressed to beat The Shard. Whilst the building is a sight to behold in of itself, the top deck offers 360-degree panoramic views of the city which stretch out for 40 miles in front of you!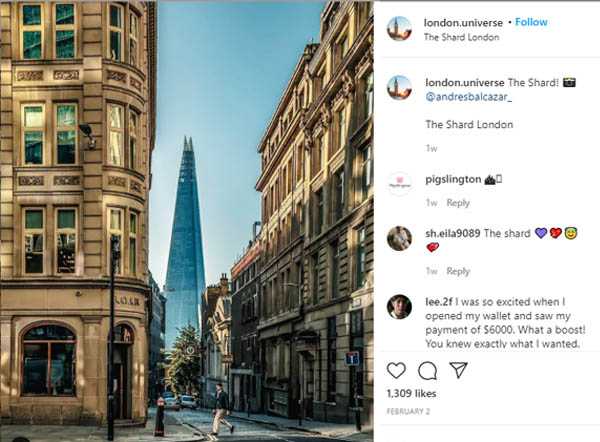 How to find The Shard
---
9. Trafalgar Square
Boasting the iconic lion statues which represent a time when these majestic beasts once roamed free throughout London… OK, that's not true, there were never any lions in London (other than in the zoos), still, they've become synonymous with Trafalgar Square and make for a great little photo op!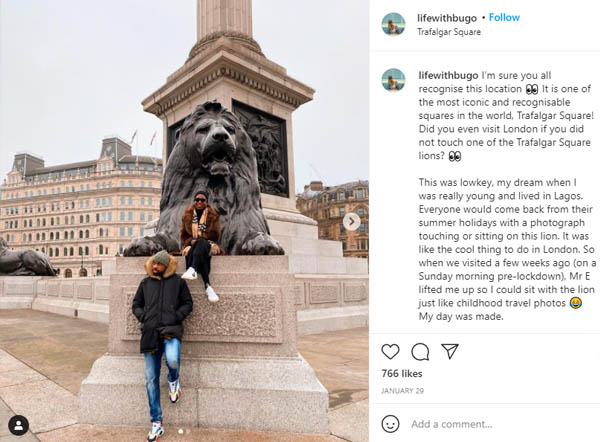 How to find Trafalgar Square
---
10. Oxford Street
If you're looking to catch London in full flow, Oxford Street is the place to head where there are black cabs, red buses and iconic Underground signs aplenty. Plus there's also a huge range of shops where you can pause the Insta-tour for a little retail therapy!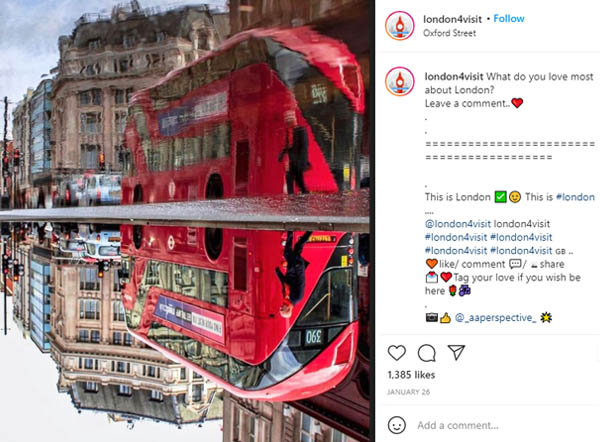 How to find Oxford Street
---
11. Wembley Stadium
The home of football is pretty impressive even if you detest the 'beautiful game'! The stunning 133-metre arch is recognisable the world over, and it's often lit up to mark landmark occasions. It is slightly out of the centre, so bear that in mind when you're planning your visit.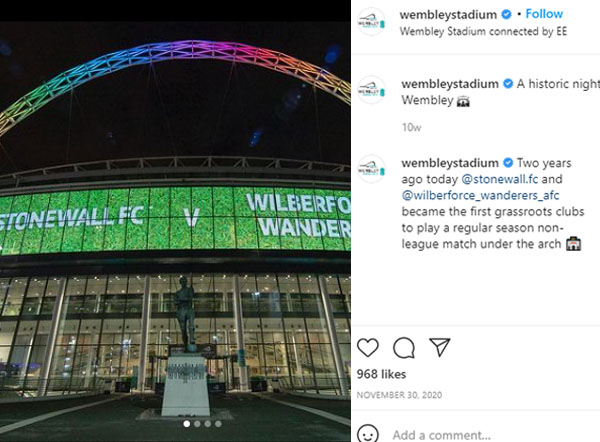 How to find Wembley Stadium
---
All that Insta-snapping is thirsty work!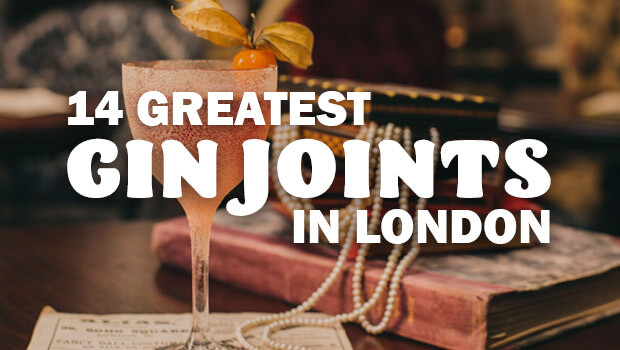 ---
Alternative London Instagram Spots
1. Leighton House Museum
Whilst the modest red-brick façade may not look a lot from the outside, once you get inside the museum you'll be blown away. The intricate décor is sublime (if not a little OTT), and features mosaics, impressive artwork and other treasures to uncover.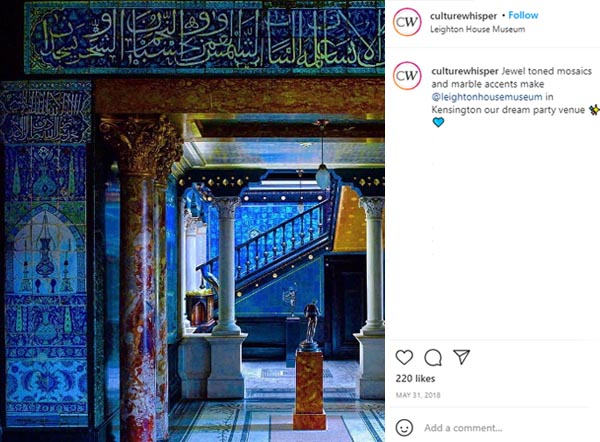 How to find Leighton House Museum
---
2. Street Art in Camden
Camden is the quirky, alternative corner of London with incredible street food, top tier pubs and urban artwork which will get your Instagram poppin'! Similarly Shoreditch and Hackney also have a load of superb street murals to ogle if you find yourselves in another part of town!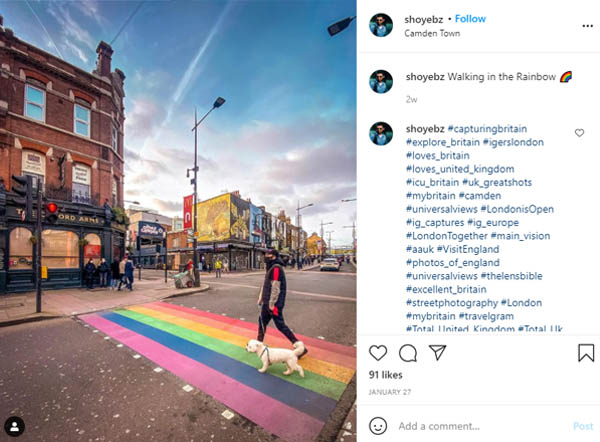 How to find Street Art in Camden
---
3. Brixton Windmill
If you're in the southern suburb of Brixton, check out the 200-year-old windmill where you can take a little tour and explore the surrounding gardens. A little bit different – this isn't your run of the mill London attraction (we'll see ourselves out…)!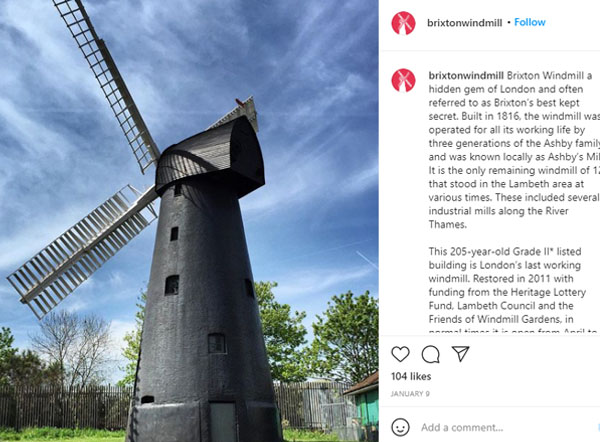 How to find Brixton Windmill
---
4. Saint Dunstan in the East
Looking like something plucked straight out of Lord of the Rings, the church ruins of St Dunstan in the East are a picturesque oasis in the heart of this industrialised metropolis and an Instagram goldmine waiting to be tapped.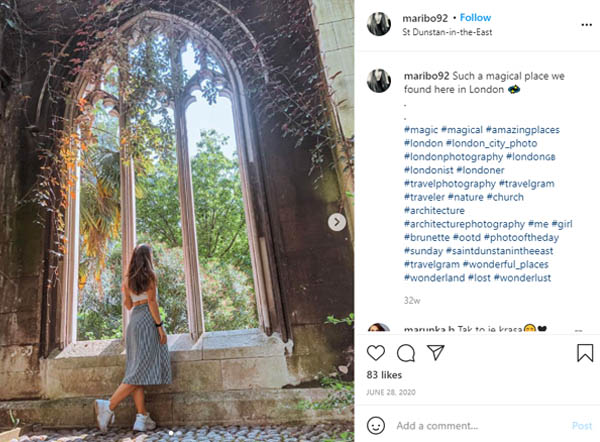 How to find Saint Dunstan in the East
---
5. Little Venice
A picture-postcard part of London, Little Venice is a bitesize homage to its Italian counterpart, but with a little bit of the tree-lined Amsterdam vibes thrown in for good measure. Houseboats, outstanding canalside pubs, stunning views – the lot!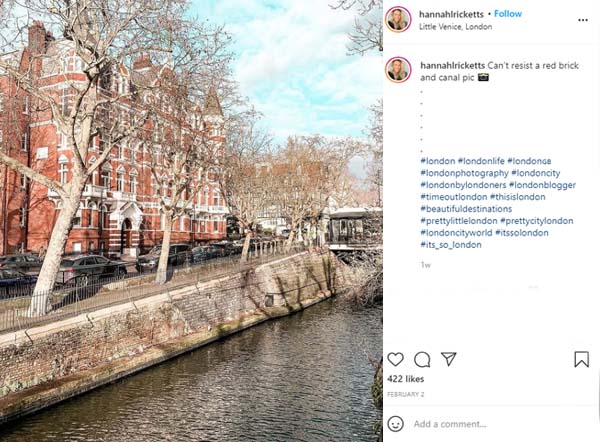 How to find Little Venice
---
6. Neal's Yard
Vibrant colours, climbing plants, a quirky courtyard – this alleyway in Covent Garden oozes style and is a great little spot to visit when you're looking for that viral-worthy Insta snap.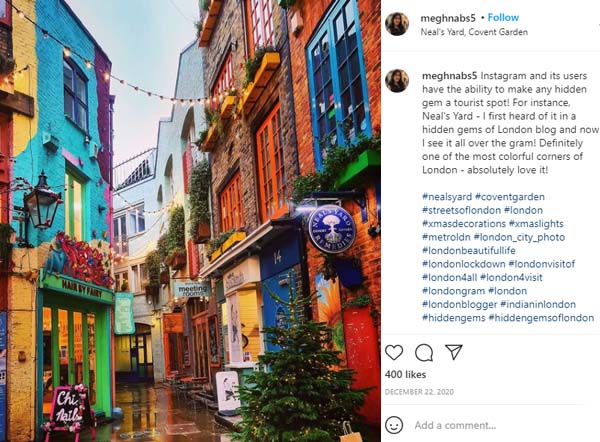 How to find Neal's Yard
---
7. The Top of the 02
Whilst the O2 (formerly the Millenium Dome) is a stunning sight from afar, you can actually scale the side of it and snap some photos from the top! If you're heading off on a London hen do – it's the perfect addition to your big weekend. Check it out for yourselves here.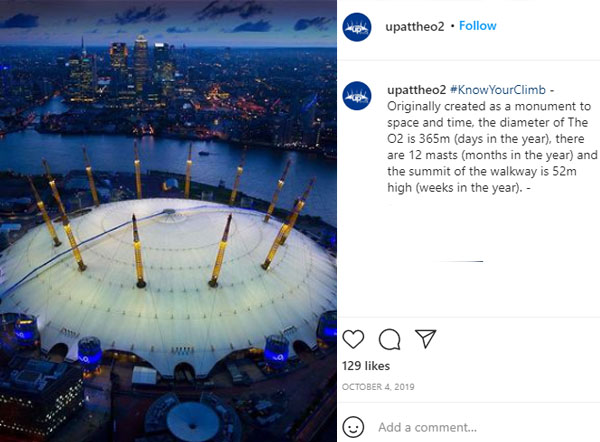 How to find the top of the O2
---
8. Sky Garden
Another spot with extraordinary views out across the city, the Sky Garden is situated atop of the Walkie Talkie tower… over. Not only does it boast a lovely little garden and sensational views, but it also has a fantastic bar and restaurant.
Over and out!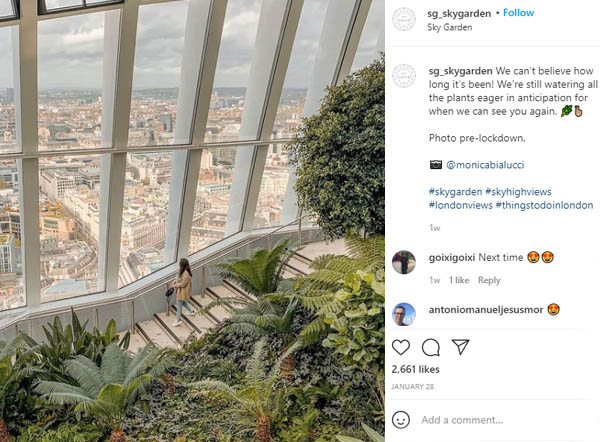 How to find Sky Garden
---
Treat yourselves to a little bit of indulgence!