Warning – You're about to read an article with a lot of gin puns. We know you've come here to check out our recommendations for the 14 Best Gin Bars in London, and that's some serious stuff, but we're creatives and love to add some flair to your reading experience in the same way you add a flourish of cucumber to a Hendricks and a sprig of rosemary to a Sipsmiths.
So, whether date night has come around again, you're planning a London hen party or you're after a gin-centric hangout for the weekend (or weekday, we're not ones to judge), then settle down and let us gin-troduce you to the best bars in the city of London where this crowd-pleasing spirit rules all.
Shall we be-gin?
Mr Fogg's Gin Parlour
This establishment is an interior designer's dream, with jazzy upholstery and a clever mix of period furniture for an eclectic, and maybe a little eccentric, vibe. Elegant ottomans line the parlour leading to a traditional fireplace adorned with nostalgic trinkets… Yes, yes, it's not all about the furniture, but we're a generation of Instagram pros so aesthetic is everything, darling. Mr Fogg's exquisite gin collection features 200 blends, so you won't be short of phenomenal concoctions to sip as you bask in the stunning surroundings. Sublime!
Gin-spiration: Physician's Sencha-tional Ramen – Roku gin, Sawanotsuru sake, Kishinamiem umeshu plum sake liquor, fresh lemon juice, sakura sench tea syrup, wasabi tincture and white chocolate noodles.
📍 1 New Row, Covent Garden, London WC2N 4EA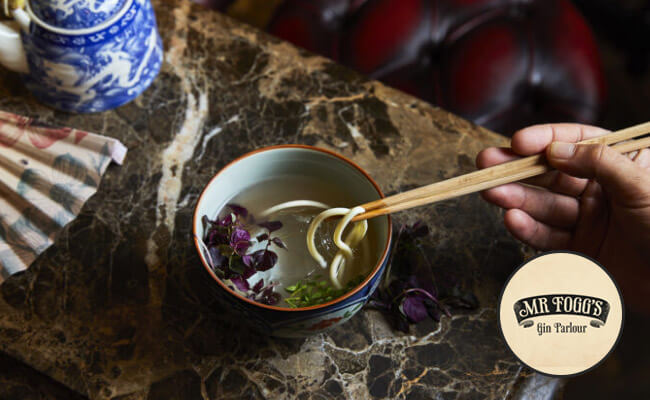 ---
Ladies and Gentlemen
Located in an old underground toilet, the quirk-factor of this fab gin joint is undeniable. Take the steps down to the hazily-lit basement for one of the more unusual venues in London. Original features from its past have stayed strong and are the focal point of the on-trend interior. With authentic white bathroom tiles and rusty railings, this hidden gem has a New York downtown ambience and a fittingly cool menu of gin delights.
Gin-spiration: Aviation – Violet gin, freshly squeezed lemon and maraschino cherry. Add some LDN CBD for a relaxing coconut flourish.
📍 213 Royal College St, London NW1 0SG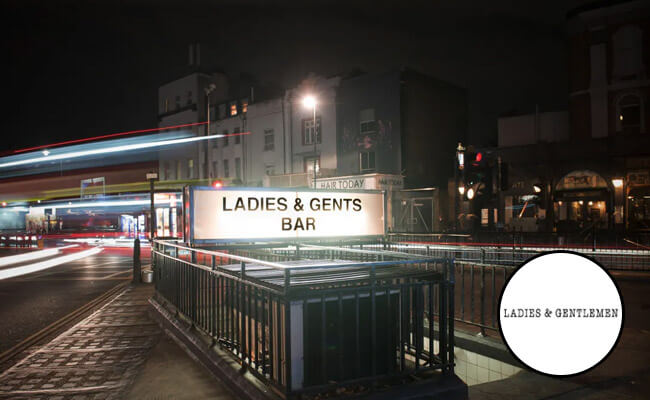 ---
Mother's Ruin Gin Palace
Based in a unique WWI factory building (edgy), decorated with a fittingly floral façade, this self-proclaimed palace lives up to its name as a royal-worthy gin haven. Enjoy one of their 80 gins on the makeshift outdoor seating during summer with retro tables and chairs. If you're on the hunt for a natural, stripped back destination where quality is still crucial, then you've found it. In the Mother's Ruin Gin Palace, gin is most definitely king!
Gin-spiration: Old Tom G&T
📍 Unit 18, Ravenswood Industrial Estate, Shernall Street, Walthamstow, E17 9HQ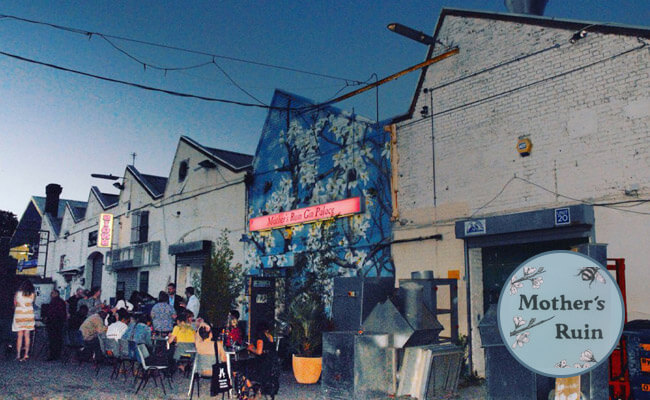 ---
East London Liquor Company
Any establishment whose main game is distilling is sure to impress with their line-up of carefully crafted cocktails and lavish liquor offerings. East London Liquor Company are bringing boozy back with a menu boasting amusingly named mixes such as 'Nesquik & Chill'. The building itself used to be a glue factory and you'll be stuck to your stools all night on a trip to this bar where style and substance are poured in equal measures.
Gin-spiration: Impeachment – ELLC Batch no.1 gin, peach & lavender soda
📍 Unit GF1, Bow Wharf, 221 Grove Road, London, E3 5SN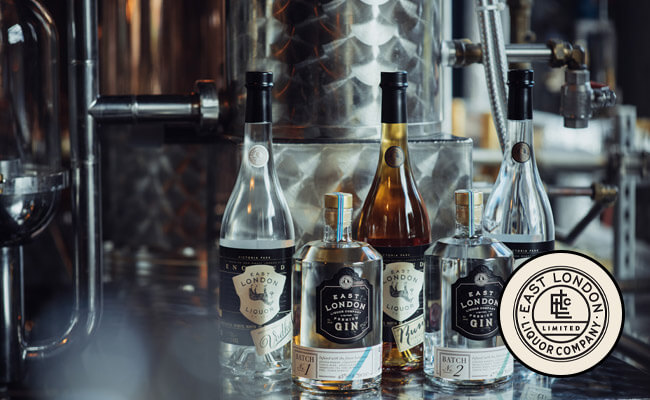 ---
BYOC Camden
Now, why would you want to bring your own booze to a bar? You probably have a favourite gin, right? Well, grab a bottle and head down to BYOC where mixologists have created an exceptional drinking experience! Bartenders will create five cocktails from your bottle using a range of fresh or handmade ingredients and mixers. The prohibition theme gets our bet and 1920s casino décor means a winning night for you and the girls.
Gin-spiration: This one's personal – tell your mixologist what you want because, baby, they've got it!
📍 11-13 Camden High St, Kings Cross, London NW1 7JE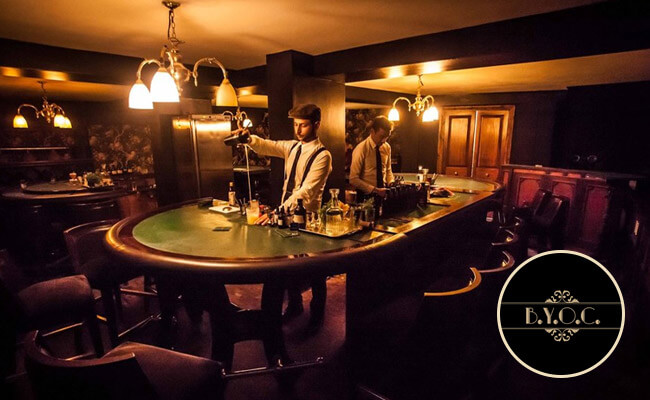 ---
Four Thieves
Four Thieves may distil a variety of different beverages, but their talent for creating amazing gin is just as bright as the mass amount of neon that buzzes around the site. They are all about the fun factor, hosting comedy and containing an arcade with anything from mini-golf to VR (what a TIME to be alive)! With their very own 'Gincyclopedia' you're in good hands for gin (over 70 to be precise-ish) and a night of retro games.
Gin-spiration: Edgerton Pink Gin – sweet rose and pomegranate flavour garnished with strawberries.
📍 51 Lavender Gardens, Battersea, SW11 1DJ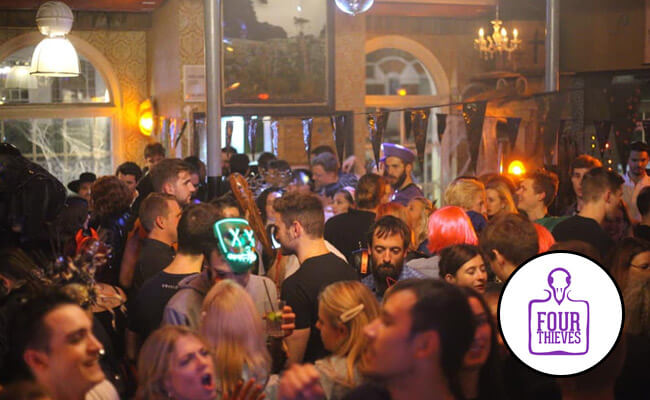 ---
GinTonica
This gin-haven boasts 100 gins from countries all around the world. Your drinks will be served in a goblet (yes, a goblet), which the guys at GinTonica believe contributes to perfect flavour enhancement. The bowl shape traps the aromas for an elevated taste experience, but we think you might just have to try this for yourselves. Ugh, what a chore! Huge bay windows let in plenty of light which makes for a perfect girls-date.
Gin-spiration: Half Hitch – Earl Grey tea Liqueur & cucumber bitters.
📍 186 Portobello Road, Notting Hill, London, W11 1LA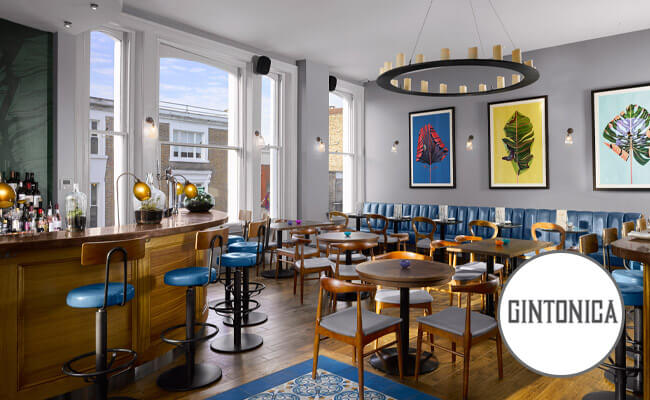 ---
Purl
The clue's in the name – 'Purl' is a traditional English drink that mixes gin and ale with warming spices. But this basement bar puts a twist on tradition with an inventive attitude and creative-hatted experts. The cellar-site boasts a speakeasy feel like no other on our top-tipple list. Gin-based cocktails are served in innovative ways and foam, fire and fogs surround the bar as expert mixologists create masterpieces almost (almost) too good to drink.
Gin-spiration: Limonjellyo – Beefeater, Cocchi Rosato served with your own bottle of cedrata and Limon-cello jelly!
📍 50/54 Blandford Street, London, W1U7HX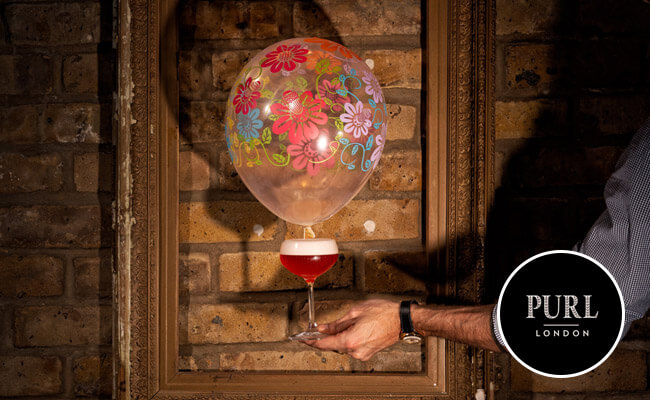 ---
Merchant House
Yes, obviously quality is good, but have you tried quality AND quantity because, in terms of the most spirits on offer, Merchant House leads the way boasting 400 gins. The interior impresses with a back wall stocked full with bottles. Classic green upholstery and timeless features win here, but the drinks take a turn from the traditional. Whatever your style, whatever your tastebuds, they'll find you something spectacular to gin-uinely surprise you.
Gin-spiration: Martini – just gin!
📍 13 Well Court, London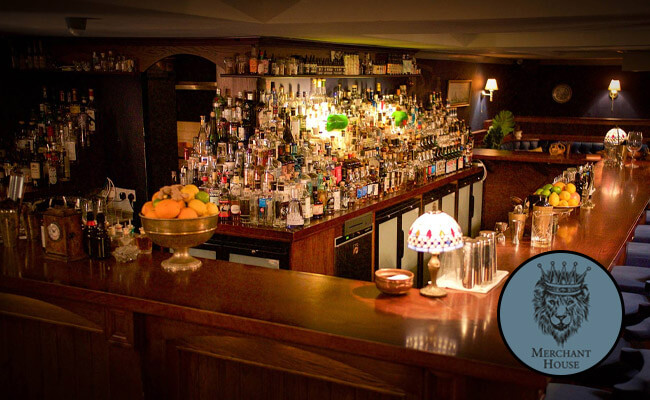 ---
Ask For Janice
Ask For Janice is a social media lover's dream. There's a menu brimming with gin-spirited delights for late-night escapades in this vibrant corner of the capital. The stripped-back design and whitewashed walls are decorated with house plants and a branded neon sign for a quick snap-happy Insta-opp. There's a hefty list of gins to choose from with the helpful addition of tasting notes so you can be sure you'll be satisfied before parting with your cash.
Gin-spiration: Elephant – strikingly smooth, encompassing floral, fruity and spicy. Pair with lemon Fever-Tree Tonic.
📍 50-52 Long Ln, London EC1A 9EJ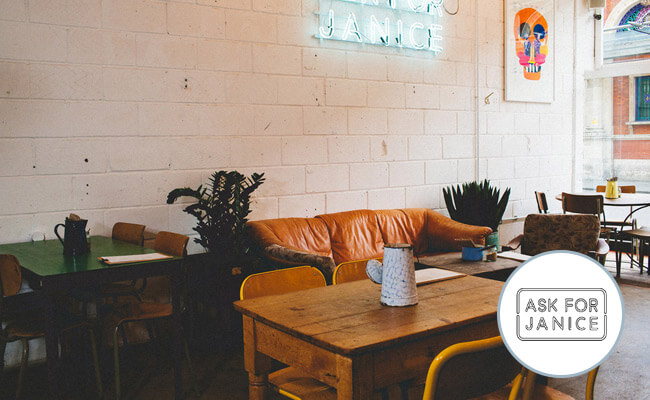 ---
The Gibson
"Gibson? What Gibson?" Or something like that, anyway. This Gatsby-esque speakeasy holds a strong reputation amongst London gin lovers. Take to The Gibson for their long list of gins and live out your Daisy Buchanan fantasy amongst the bottle green, black and gold elegance evoked by the prohibition theme that really roars of the twenties. Not to be missed on the London gin drinking scene if you love a little F Scott Glitz-gerald sass in a glass.
Gin-spiration: The Gibson Martini – Copperhead Gin Gibson Edition, pickling spice, Martini Ambrato Reserva, house double pickled onion and a twist of lemon zest.
📍 44 Old St, London EC1V 9AQ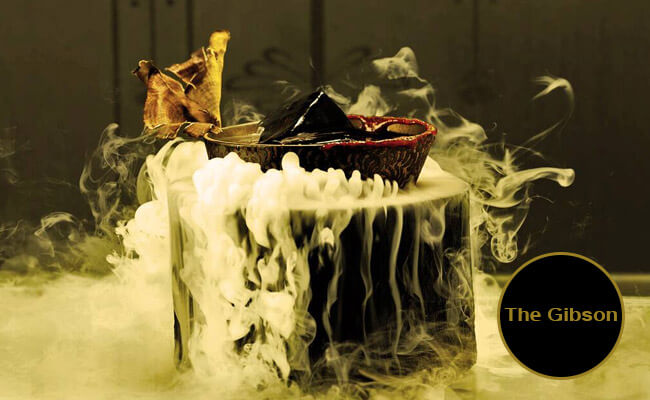 ---
214 Bermondsey
Another centennial establishment with 100 gins on offer. "No pretence; just gin" is their slogan, so you can be sure some boundaries are about to be pushed when it comes to your gin-experience. You know they're serious about their gin as they've created their very own tonic accompaniment with no added botanicals so you get the true taste of your chosen spirit. A refreshingly simplistic, low-lit basement bar awaits in the buzzing borough of Bermondsey.
Gin-spiration: The Great British Gin-off – 3 mini G&Ts with all the garnishes.
📍 214 Bermondsey Street, Bermondsey, SE1 3FE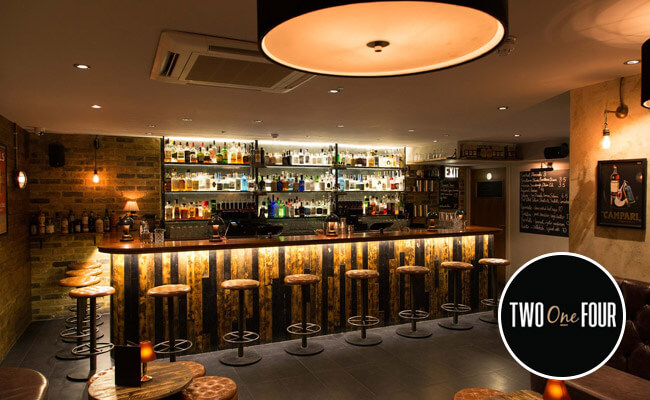 ---
Nicholson's Pubs
"Pub, pub, pub, pub!" is the country-wide chant of Friday nights. Nicholson's Pubs (or ale & gin establishments, if you're feeling fancy) are dotted around the city with a range of versatile gins to try. If your tastes lie in the realm of the much-loved local, then a trip to a Nicholson's Pub is well-advised. Our favourite is The Clachan with Victorian wood panelling, royal blue paint and distressed upholstery. Though, they're all equally as wonderful!
Gin-spiration: Sipsmith – time for a classic drink in a classic pub.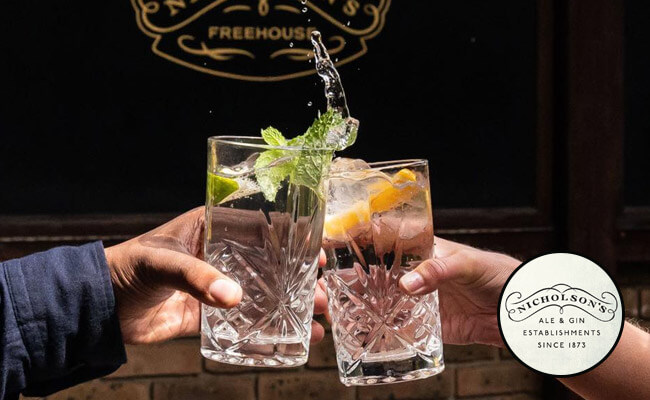 ---
City of London Distillery
The City of London Distillery opened its doors in 2012 after a 200-year drought of distilleries in the capital. Since then, they've been smashing it with 8 unique blends that are just waiting for be tasted by thirsty gin-loving groups like you. Copper stills can be seen displayed around the seating area and a delicate aroma of gin vapour seeps up from the distillery. They should make a candle for that – Yankee, where you at?!
Gin-spiration: Corpse Revivier No. 2 – Square Mile Gin, Cocchi Americano, lemon, triple sec, absinthe.
📍 22-24 Bride Ln, London EC4Y 8DT