If you're looking to take your crane, peacock and extended puppy to a new level or want to explore the world of yoga without the chanting or deeper spiritual nature then these fantastic yoga classes are designed to appeal to every level of fitness. It's yoga with added fun.
Laughter Yoga – Brighton
Yoga? You're having a laugh. Well yes actually, that's exactly the point. This class is all about using the power of meditation and the stress busting benefits of a having a good old chuckle. A group session, you'll be part of the fun and connect with those around you.
---
Boxing Yoga – London
'Yoga for tough guys' is suited to all fitness levels. Boxing training has long been considered one of the best forms of body conditioning making it the perfect partner for yoga. The classes abandon conventions such as chanting while still focusing on strength and inner peace.
---
Stand Up Paddleboard Yoga – London
Combing two great activities that are both good for your core strength and the environment. Exactly what it says on the tin, this involves yoga while balancing on a floating paddleboard because apparently doing a 'One legged king pigeon' isn't hard enough on dry land.
---
Hot Pod Yoga – Nationwide
Working the body and calming the mind. One thing you need is the right space and the Hot Pod can create that stillness anywhere. The 37°c temperature helps to heat the muscles in order to aid flexibility and help make the heart work that little bit harder to optimise health benefits.
---
Yoga in the Shard – London
A quite simply breath-taking place to experience yoga. If this doesn't make you feel connected to the universe in a different spiritual way then possibly nothing will. Participants are practically in the clouds as the class takes place in Europe's tallest building.
---
Beach Yoga – Newquay
If you're only going to do yoga in one place for the rest of your life than the beach is the place to do it. Newquay's Fistral Beach in particular is spectacular. The sound of the waves, salty air and stretching out your muscles to the backdrop of the ocean…
---
Yoga Zen Do – Brighton
Getting married is statistically one of the most stressful events of your life so introducing yoga could really help the bride-to-be unwind ahead of the big day as well as introducing many of the hens to something totally new.
---
Dance Yoga – Snowdonia
Combining the benefits of yoga and dance in a beautiful way allowing you to energise and empower yourself. Ideal for anyone looking at yoga as a more social as well as spiritual event. Sequences are choreographed meaning the activity feels less isolated and more connected to your fellow class mates.
---
Doga (Dog Yoga) – London
Doga works using the natural symbiotic relationship that already exists between people and their pets. Releasing stress can be beneficial for both partners but won't require both of you to master all the poses, although one of you will be brilliant at downward facing dog.
---
Beer Yoga – Berlin
Well if anything is going to make you more flexible, alcohol is probably a good contender. However this isn't just about consuming beer, it's about combining one of mankind's most ancient drinks with one of our oldest fitness techniques. And yes, beer is definitely spiritual.
---
Anti-Gravity Yoga – London
This amazing class brings the added benefits of aerial fitness training and combines it with the meditation and stillness of yoga. You'll get to do something incredibly beautiful and graceful while still be able to link it to spiritual peace and harmony. A simply incredible workout.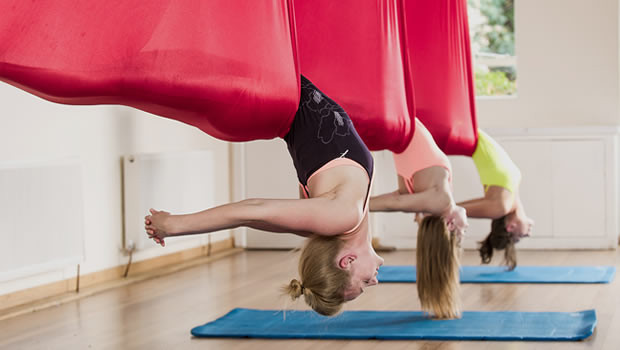 ---
Disco Yoga – London
This is yoga moves to disco grooves. Yes! You can clear your chakra while getting down to Chaka, or do your downward dog while knowing 'you will survive'. If you love cheesy disco classics and staying in shape and want to see the fun side of yoga then this is it.