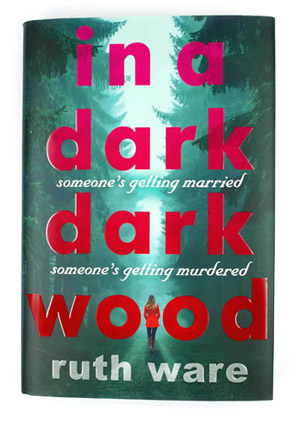 GoHen.com talks exclusively to Ruth Ware about her debut novel In A Dark Dark Wood, plus hen parties, horror stories and male strippers who fold their clothes?!?
We loved the idea of a whodunit set at a hen party but how did you come up with the idea?
Thank you! It was actually a friend, who said she'd never read one. I immediately thought a) I hadn't either, b) why not when it was such a great setting? and c) I wanted to write it!
Have you had any unusual hen party experiences yourself?
Nothing out of the ordinary myself, but I am building up a brilliant collection of painful anecdotes as more and more people fess up to their hen night nightmares in response to the book. Probably my favourite is one about an amateur stripper, drafted in by the barman to fill a last minute cancellation. The hen party realised something was not quite right when he took off his first item of clothing… and folded it up.
It's definitely a book to be read with all the lights on. We'll confess to feeling more than a little freaked out at times… but what scares you?
Ha – everything! I am a huge coward and don't like reading scary books at all. Lots of the chilly moments in the book are rooted in my own phobias. I definitely don't like being home alone at night with the lights on and the curtains open. As soon as darkness falls, I'm the one yanking the drapes across and locking the back door.
Many hen parties draw together very different characters, do you have any ideas for breaking the ice with a mixed group of friends (as opposed to bumping them all off one by one)?
I think it's always nice to start off with a practical activity that gives people something to do, and an excuse to mingle and chat. Often in a hen party you can have a core group who knows each other very well and it can be quite painful to be one of the few outsiders. I've done chocolate making, which was brilliant – kudos to the girl who hand-piped little penises out of chocolate ganache – and embroidered pants, both of which were great in that respect. You had something to keep your hands occupied while you got to know the rest of the hen party, and an excuse to keep your head down if you didn't happen to be part of the conversation at that moment, but there were plenty of chances to exchange tips and materials and have a laugh.
In the novel, Flo is certainly an intense Maid of Honour, what advice would you give to any less threatening chief bridesmaids?
I think first, try to look at the plans and activities from the point of view of everyone in the party, not just the bride. Great if the hen is extremely outgoing and will love a "bathing belles" theme with a bikini-clad bar crawl, but not everyone is going to feel comfortable with that, and the night shouldn't be an ordeal for some members of the party. Similarly, it's not fun to be the pregnant sober girl, if a large part of the hen party is getting roaring drunk. Ideally you want a range of activities so there's something for everyone. And second, once the planning stage is out of the way, try to relax and accept that not everything goes to plan, and that's ok.
What's your top tip for successful hen party planning, that doesn't involve bumping off any bouquet catching rivals?
Well, hopefully no homicides or deaths, for starters. You want everyone safe and sound at the wedding, not hobbling down the aisle on crutches because of a drunken fall. But mainly all of the above – plus a bit of flexibility regarding activities and expense. Unless you've got a very select group of mates with very similar finances, you're never going to get a one-size-fits-all hen, but you can ensure that everyone has at least one activity they can join in, even if they're pregnant, or have to get back to put the baby to bed, or completely skint.
Which is the last book you read that had you checking there was nothing under your bed?
The Haunting of Hill House by Shirley Jackson. I had to put it down several times because I was so freaked out. It's definitely a book-in-the-freezer type read.
What's the one song that's sure to get you dancing at a hen party (and we won't judge any cheesy tunes, honest)?
Too many! Love Cats by the Cure always gets my feet tapping, but in terms of true cheese, I've got to admit to a weakness for Pharrell Williams' Happy…
---
Review – In a Dark, Dark Wood by Ruth Ware
Nora, a 26 year old crime writer from London receives an out-of-the-blue email inviting her to the hen-do of old friend Clare whom she hasn't seen for 10 years. When Nora realises only 6 guests are invited and that Clare is marrying Nora's first teenage love, suspicions arise as to why she is there. Stories unfold of Nora and Clare's long lost friendship telling of a once deep devout relationship entangled in a teenage love triangle that still haunts Nora's consciousness today.
Clare's new best friend Flo, loyal, controlling and obsessive and seems to see Nora's life as something to aspire to, but perhaps she wants it a little too much? As the hen party takes a dark twist, Nora is left lying in a hospital bed trying to remember and piece together the puzzle of what happened for her to end up battered and bruised with police guarding her every move.
In a Dark, Dark Wood is well executed and manages to build tension and suspense through the clever use of a dual-timeline narrative. The author, Ruth Ware creates an atmospheric setting in an isolated glass house surrounded by a dense wood that leaves Nora feeling claustrophobic and wanting to run, not only for her state of mind but possibly for her life. This debut novel gives an intriguing insight into female friendships, jealousy and unrequited love. The story is well-paced and captivating which mirrors the emotional tension between the characters with the gradual unravelling of both the plot lines and state of mind of the book's central characters. But will it be the perfect murder in this dark, dark compelling tale?
In A Dark Dark Wood is out now and available from Dead Good Books as well as all good book retailers.
Get the latest updates from Dead Good Books about all their latest releases and competitions on Facebook or Twitter or follow novelist Ruth Ware.