Christmas time is nearly here – and that means the Christmas shopping panic should be setting in any day now. Frankly, with the increasing variety of gifts on offer, we're finding it harder every year to narrow down exactly what to get our special someones – not to mention the less special someones we're socially obligated to buy for. Luckily, we've done a bit of the leg work for you, and found some of the best Christmas gifts around for those people who are particularly difficult to buy for. Findmeagift.com is one of our top favourite one stop shops for totally unique, different and crazy Christmas gifts and we found all of our gift suggestions here!
Colleagues
There are a dozen reasons why a present for your colleague is going to be one of the most difficult gifts you'll need to buy this year. There's the strict limit imposed by the office secret Santa to adhere to, plus you've pulled the name of that one guy in accounting who's only been here two weeks and no one knows that well. Or worse, you've pulled the boss' name out the hat – and frankly there's no help for you then.
• Fire the Boss Elastic Band Gun – both a fun stress reliever, and a way to while away the hours at work. Targets are included, but there's nothing to stop you printing off a picture of the boss' face and sticking it to the cut out. Except the fear of getting fired, obviously.
• Golf Stationery – anything to pass the time, right? And since it's got rubbers, a pencil, and a notepad, the boss can't object to anyone having it on the desk.
• Personalised Mug – office mug politics are a tricky business. By getting them a personalised mug, you're getting them freedom from the covert war raging quietly in the office underbelly – and freedom is a gift far superior to whatever novelty post-its or biscuit box everyone else is swapping this year. Plus, there's no excuse for anyone getting their tea order wrong, no matter whose round it is.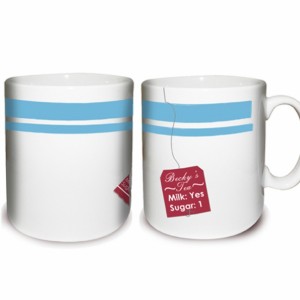 Dad
They never fail to be the most difficult men around to buy for. Gone are the days when you could stick a bit of pasta to a photo frame and call it a day, now you have to trawl through the shops on the hunt instead. Just to make things a bit harder, you've been expressly told no novelty ties or socks this year either. You wouldn't mind so much, you just know mum has picked out all the gifts from him, and he's just signed his name on the label.
• Grow Your Own Chillies Kit – he might fancy himself a bit of a gardener, but in the deep mid winter, plants can be a difficult present to give. A chilli growing kit lets your dad use his green thumbs, plus it includes five different chilli varieties – and they do say variety is the spice of life.
• Utility Multi Tool Pliers – dads love anything that crams a lot of tools on to one handy frame, that's just a fact. But penknives are so over done, and no one ever uses the cork screw bit anyway.
• Plank Mini Shelf and Key Holder – it's big enough to hold all your dads stuff, and small enough that your mum won't object to it cluttering up the house. With a magnetic strip to stop him losing his keys too, it's the handiest little shelf around.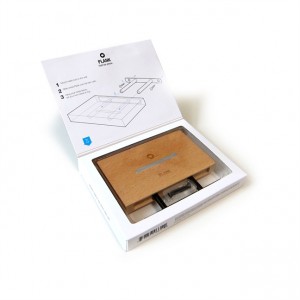 Mum
Finding something that adequately expresses how lost you'd be without her is no mean feat, especially when you've used up all the good ideas in Christmases past. You've got to really pull it out the bag too, since you're pretty sure dad is going for the practical gift again this year, and she definitely deserves a little luxury in her life. If only you could ask your mum for help with finding something…
• Chocolate Bath Melts Gift Set – you're on to a winner straight away, including the rich chocolate-y smell that every woman loves. Furthermore, these aren't just scrubs or shower gels to be squirted on and washed off – they're to be enjoyed with a leisurely soak in the tub, ensuring that your mum gets at least a few hours to sit and relax this Christmas. You might want to order a second set for yourself, come to think of it.
• Personalised Tea – specially blended, beautifully presented, and with a personalised name and message from you on the tin. There's no better way to treat your mum to a cuppa.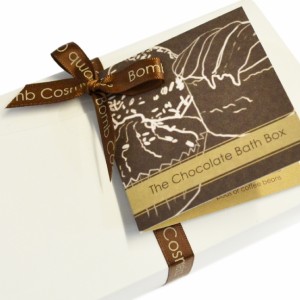 Best Friend
She should be the easiest person in the world to buy for, since there's no one you know better. You've been BFF's for years though, and used up most of the obvious gift choices… and since you want to show her just how much you value her friendship, no last minute finds are going to do. In any case, this is the one where it's important to impress. You're sure she'd love whatever you give her, but everyone else needs to know that you're the best friend for a reason.
• Giant Wine Glass – you've heard rumours a glass of wine a day is good for you. This is one way to let your friend know just how much you value her good health.
• Personalised 'Favourite Things' Print – it's a fantastic way to add a personal touch to a present, showing just how well you know your friend. And when displayed on the wall, everyone will be able to see just how thoughtful you are.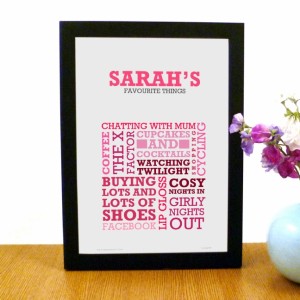 Boyfriend
Maybe you've decided to save money and just go for novelty gifts this year, maybe you've decided to go all out and treat each other… if you pick the wrong option, it makes for one very awkward Christmas day. And even once you've figured out the budget, that's not the end of the drama. You love him to bits, but he's maddeningly unhelpful when it comes to giving hints, and his family have already called dibs on the easy things like books and DVDs.
• Bar Game Beer Mats – this one is all about subtlety. What everyone thinks you're giving him is something to do at the pub besides watch football and complain about work, what you're actually doing is giving him tacit permission to spend even more time at the pub with the lads. That's love.
• Build Your Own Robot – really a gift for both of you – he gets to fiddle around and feel like some sort of brilliant engineer, you get to do something more interesting, like watch the Christmas Day Downton special.
• Monogamy – you've already given him the best gift he could get…you! Now let him enjoy you with this steamy board game. Just beware – this might not be one to open with the family.