Wedding Photographers & Videographers
Ash Davenport Photography
Offer: Free Connection Session & Prints with Each Booking
Where: UK

One part of the incredibly gifted MIKI Studios duo (also featured below), Ash Davenport has an eye for the sublime and specialises in creative documentary wedding photography – be sure to check out his portfolio on his website below.
---
David Pullum Photography
Offer: Free Wedding Album
Terms: With an 8-hour package
Where: UK & Abroad

David Pullum is one of the UK's greatest wedding photographers and understands that each one of his couples is different, meaning he treats you with the special attention you deserve. Secure the 8-hour package and get yourselves your free wedding album!
Website | Facebook | Twitter | Instagram
---
Eternally Adored Films
Offer: £100 Off Wedding Videography for All Remaining 2021 & 2022 Events
Terms: £100 deductible from prices/packages shown on the website only; travel charges may apply to weddings outside the Midlands.
Where: UK

Eternally Adored Films is possibly the aptest name for a wedding videographer in the business and one look at David's brilliant portfolio is enough to show you why. Now you can get a humungous £100 off, so get in there quickly and secure yourself some huge savings before someone else beats you to it!
Website | Facebook | Instagram
---
Janina Brocklesby
Offer: Unlimited Cover Wedding Photography
Where: UK & Abroad

Why should your wedding photography finish after the first dance? Janina Brocklesby will stick around for the duration to ensure the midnight moves are captured in all their stunning glory. Check out that stunning Insta feed!
---
Katie Dervin Photographer
Offer:Free Engagement Shoot for GoHen Readers on 2022 Bookings!
Terms: Offer applies to all 8-hour + packages made for 2022; must be within a 25-mile radius of Glossop, Derbyshire
Where: North West

Just when we thought we couldn't love Katie Dervin more, she goes and offers our readers an exclusive little deal! Actually, it's not little at all, it's a whole engagement shoot free of charge. That's pretty massive, really!
Website | Facebook | Twitter | Instagram
---
MIKI Photo + Film Studio
Offer:Free Engagement Shoot with Every Booking
Where: UK & Abroad

Oh, MIKI, you're so fine offering each and every one of your clients a free engagement shoot! Yes, getting married isn't just about the big day itself, it's the build-up, too, so capture the early excitement with this free session!
Website | Facebook | Instagram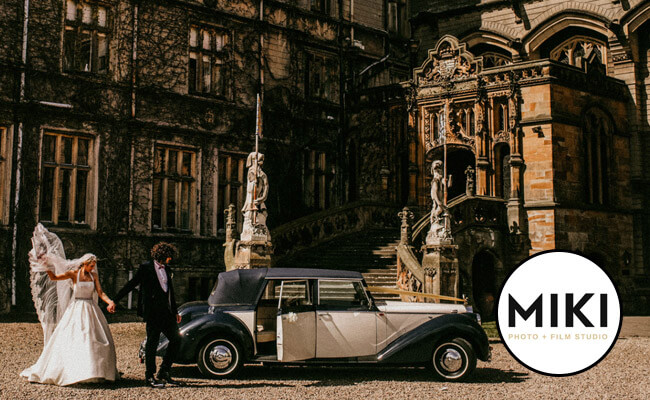 ---
Rik Pennington Photography
Offer:Discounted Rate for Midweek Weddings
Terms: Valid for 2021
Where: UK & Abroad

We love an excuse to write about the immeasurably talented Rik Pennington and his stunning wedding photography because it gives us an excuse to scroll down his Instagram for half an hour (OK, it was an hour – don't tell the boss!). Now you can secure his services at a discounted midweek rate. Get in early!
Website | Facebook | Twitter | Instagram
---
Sanshine Photography
Offer: A Second Wedding Photographer
Where: UK & Abroad

What's better than one incredible wedding photographer snapping your wedding? Another one free of charge! Yes, these guys can literally cover all the angles and ensure nothing gets missed. We can't speak highly enough of Sanshine Photography!
Website | Facebook | Twitter | Instagram
---
Shane Webber Photography
Offer:Free Package Upgrade Worth £500
Terms: When you book both the photography and videography package
Where: Manchester & Cheshire

A free £500 upgrade. Five-hundred quid! If you were looking at the possibility of a photographer and a videographer for your wedding, Shane must have just danced his way to the front of the queue because not only is the offer outrageous, he's supremely gifted at what he does.
Website | Facebook | Twitter | Instagram
---
Stephen Walker Photography
Offer:50% Off Wedding Albums (Including Fine Art Albums)
Terms: Does not include parent albums; applies to couples who book any wedding package in 2021
Where:UK & Abroad

We stumbled across the brilliant Stephen Walker last year when we were doing our annual rundown of the top camera slingers in the country and we were blown away. We'd need little incentive to book him up anyway, but 50% off a wedding album makes him a dead cert for when we eventually get married!
Website | Facebook | Twitter | Instagram
---