Ah summer, how we love thee. You turn our legs golden brown, you make our gardens grow, you give us a reason for eating large amounts of ice cream… But one of the best things about summer is the chance to dine al fresco. One basket, one blanket, a cool bag full of goodies and you're ready for action.
"But making a picnic can be so much hassle!" Not true, a picnic can actually be easy-peasy-lemon-drizzle-cake-squeezy. Here's 14 quick and easy picnic hacks and recipes to make your summer sizzle.
1 – Raspberry Mojito
You can't travel without having enough liquid, that would be foolhardy and dangerous, so make sure you get cocktailed up before you set off. Pre-mix your drinks then put them in a thermos flask to keep them cool as a… well cool as a cocktail.
Ingredients
• 1 ½ oz. of white rum
• 1 dash of club soda
• 2 teaspoons of caster sugar
• 4 raspberries
• 2 lime wedges
• 1 sprig of mint
• Crushed ice
Method
Muddle the lime, raspberries, mint leaves and sugar together. Add the rum and top with dash of club soda, traditionally it should then be stirred but if you're picnicking you can just take it for a walk instead.
2 – Pina Colada
It's never too early for a pina colada, it has fruit so it's virtually breakfast! What's more this amazing cocktail is packed full of Caribbean sunshine flavours.
Ingredients
• 1 ½ oz. tequila
• 1 ½ oz. of coconut cream
• 3.5 oz. of pineapple juice
• Crushed ice
• Pineapple chunks to garnish
Method
Add all the ingredients (except the garnish) into a blender and go crazy! Pour into a highball glass and add a small amount of crushed ice.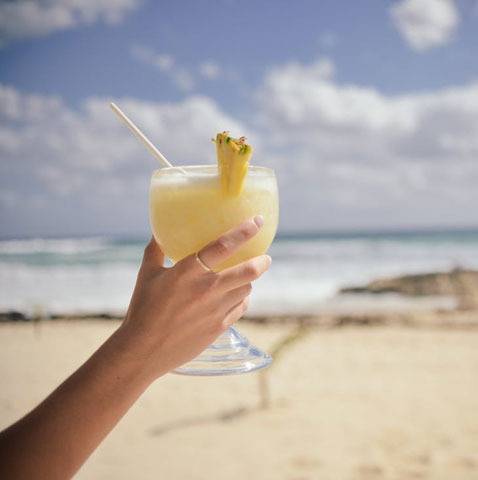 3 – Ciabatta Mozzarella Subs
If you like your cooking quick, easy and healthy then to paraphrase Greg (Masterchef) Wallace "Making picnics doesn't get easier than this."
Ingredients
• 4 ciabatta rolls
• 1/3 cup mayonnaise (optional)
• 1 tablespoon refrigerated basil pesto
• 1 cup baby spinach
• 8 oz fresh mozzarella cheese
• 8 -12 vine tomatoes
• 12 large leaves fresh basil
• 1 teaspoon balsamic vinegar
Method
Slice the rolls in half horizontally. Spoon the pesto and mayo on the lower half of the rolls. Cover the pesto in spinach then slice the mozzarella and layer it on top. Finally add the basil before sprinkling with balsamic vinegar.
4 – Summer Tossed Salad
Salad is a super healthy and easy addition to your picnic but don't be boring. It's summer so add a little something extra. Experiment with different salad selections including dried fruits and nuts.
5 – Fish Finger Sarnies
Quite possibly one of the simplest yet greatest foods of all time and perfect for a summer picnic.
Ingredients
• Fish fingers
• Crusty white loaf
• Butter
• Seafood sauce
• Mayonnaise
• Chinese leaf lettuce
Method
Thickly slice the bread and then butter it. Spread seafood sauce on one piece of bread, mayonnaise on the other, then place on your cooked fish fingers (grilled not fried). Shred crunchy Chinese leaf lettuce and you have the perfect summer sandwich.
6 – Spicy Feta & Pepper Dip
Looks and tastes really impressive but is ridiculously easy to make. You get to look like a budding Nigella without all the hassle.
Ingredients
• 240g feta cheese
• 120g jarred red peppers
• 3 tablespoons olive oil
Method
Combine the feta, red peppers and oil in a food blender. Season with black pepper and blend until smooth. Simples.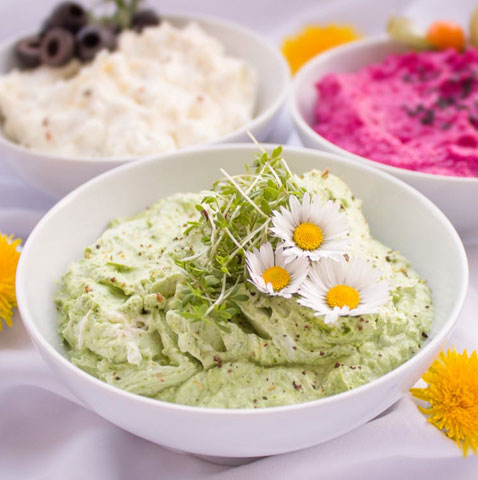 7 – Cheese & Bacon Pinwheels
Perhaps the most complicated of our recipes but still a simple bit of cooking any newbie baker can do.
Ingredients
• Plain flour
• 500g puff pastry
• 12 thin slices smoked pancetta
• 4 tablespoons grated Parmesan cheese
• 2 tablespoons basil pesto
• 2 tablespoons sun-dried tomato pesto
• 1 tablespoon milk
Method
Line a baking tray with greaseproof paper and preheat the oven to 180c/gas 4. Dust a work surface with flour and divide the pastry into two even pieces. Roll one piece of the pastry out to roughly the size of an A4 sheet of paper and around 2mm thick.
Spread the green basil pesto evenly over the pastry, leaving a 1cm border at the top, then lay 8 of the pancetta slices vertically on the pastry.
Scatter over half the grated Parmesan and roll the pastry up into a cylinder, starting with the longer edge closest to you.
Brush the top edge with milk to seal then use a sharp knife to slice rolled pastry into 1cm thick pinwheels.
Arrange the pinwheels on your lined baking tray, before chilling in the fridge while you prepare the rest of the ingredients.
Bake for around 15 minutes, until crisp.
8 – Sweetheart Slaw with Passion Fruit Dressing
Looks, tastes, smells fantastic, super healthy and very easy to make. It's what picnics are all about.
Ingredients
• 1 sweetheart cabbage
• 3 large spears of asparagus
• 3 spring onions
• 2 sticks of celery
• 1 large green eating apple
• 1 carrot
Passion Fruit Dressing
• 1 large orange
• 3 ripe passion fruit
• 2 tablespoons olive oil
• 1 tablespoon poppy seeds
Method
Finely slice the cabbage, trim the asparagus, then finely slice along with the trimmed spring onions and celery. Peel and coarsely grate the apple and carrot then add all the veg and fruit into a bowl.
To make the dressing grate the orange zest (finely) into a bowl and squeeze in the juice of the orange. Halve the passion fruit and scrape in the pulp, then add the oil before mixing.
Pour over the dressing, mix and season to taste.
9 – Super Easy Brownies
Chocolate, seems so bad, tastes so good, we'll happily take the minor calorie hit for these fantastic tasting brownies.
Ingredients
• ½ cup flour
• 1 cup sugar
• ½ cup salted butter, melted
• 2 eggs
• 1/3 cup cocoa powder
Method
Preheat the oven to 180c/Gas 4 and grease a 9-inch baking pan.
Combine the flour, sugar and cocoa powder. In a separate bowl whisk together the butter and eggs. Add the egg mixture into the flour mixture, stirring until combined. Pour the mixture into the greased pan and bake for 25 minutes. If you're feeling naughty you can add chocolate chips.
10 – More Cocktails
Also after prepping all that food you might not have time for organising all the drinks as well. That's ok, simply have your own mixologist on hand. Sound a bit decadent? Piffle! You deserve your own mobile cocktail mixing masterclass or simply having an expert there to mix your drinks for you. You're worth it.
Read more about Mobile Cocktail Making Workshops.
11 – Alco Lollies
Admittedly there does appear to be a bit of a boozy theme to this picnic but if you don't want to get drunk but still fancy a little bit of booze then hide it in a lolly. Simply mix the drink of your choice the night before you go, freeze it in an ice lolly mould (available from most supermarkets and kitchenware shops) the night before and you're good to go.
12 – Strawberry Lemonade
For the non-booze hounds there are still plenty of fantastic summer drinks to enjoy like gorgeously refreshing strawberry lemonade.
Ingredients
• 2 cups fresh strawberries
• 3/4 cup freshly squeezed lemon juice, about 5 lemons
• Iced Water
• Lemon slices
• Sugar (to taste)
Method
Slice the strawberries, place a handful to one side for later, the rest go into the blender with the lemon juice to be blitzed. Strain the mixture into a jug and add iced water. Then add lemon slices, whole strawberries and sugar to your taste.
13 – Wine Wipes
You don't want to be left with any tell-tale cocktail moustache so wet wipes are a handy inclusion to your hamper.
14 – A man servant to carry it
Now hold your horses, no, you don't need a man to define you, sisters are doing it for themselves but having your own butler in the buff on hand to serve you peeled grapes? Yes please!
Check out our Perfect Picnic Man Servants…