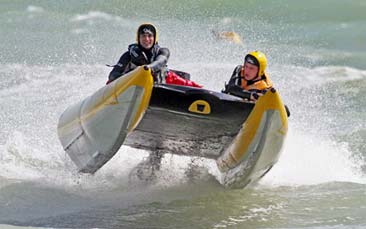 Zap kats are incredibly fast and incredibly fun! Ride the surf at a pace that'll leave you breathless and benefit from our expert instructors who'll show you the ropes and teach you the best ways to jet along on these speedy machines! Hen party activities don't get much more exhilarating than this - zap kats involve jetting across UK coastlines at speeds of up to 50mph on a craft that has a stronger power-to-weight ratio than most Ferraris!

The nearly wed won't be thinking about petits fours or blue speeches from the best man or her father when she's clinging on for dear life through the 3G turns and crashing over waves with the wind in her hair. Our zap kats are ideal for hens who love an action-packed adventure with their favourite girls.

If you're looking to treat the girls to something a bit different, this is a fantastic opportunity to get involved with a once in a lifetime activity. Your expert instructor will take you out into the choppy waters before aiding you on an adrenaline-fuelled ride, pulling sharp turns, jumps and driving waves to make it action-packed and unforgettable! If you're heading up a group of adventurous hens, don't hesitate to include zipping zap kats in your hen weekend.

Get together with your favourite girlfriends for a thrilling day out, crashing through waves and going full throttle for an adrenaline-pumping, white knuckle day out! Gather round your fabulous crafts for an Instagram worthy group selfie to remember your day by!