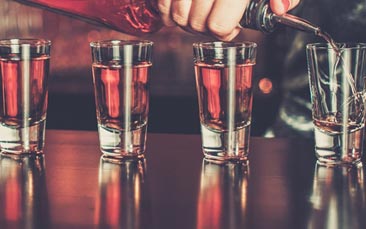 "Vodka? Well it's just fermented potato skins isn't it?" You might as well be calling diamonds 'just crushed coal'. Vodka is quite simply one of the finest drinks available and perhaps the best party fuel of all time (in scientific tests it's even more effective at getting a party started than a Jedward album!).
But you and the girls can party in style with guest list entry to a top party venue. Inside a reserved table will be ready for you along with your very own vodka party consisting of;
1 bottle of Ketel One vodka
Selection of mixers
Ice
Russian style dancing (although that's entirely down to you and very much optional)
You'll be your own bar tenders as you'll be pouring your own drinks (Yeah, sit down Tom Cruise, we got this). You can enjoy the shots in traditional fashion "Twoje zdrowie" (that's Polish for 'cheers'). The bottle you can pour over ice, enjoy with mixers, and generally take your time.
If the vodka should run dry then we have other drinks packages available. You can also add a hen party meal at the same venue to create an entire evening of fun. Please ask our team for more details.
Please note;
One set of drinks per 10 guests