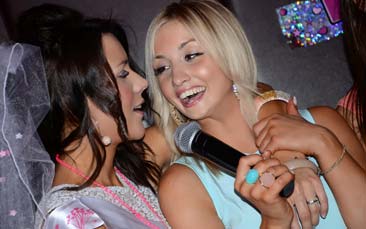 When you're having an amazing night out, you want some sort of record to look back on in later years. Photos to take home and show the family (depending what you get up to of course!), photos to get out and embarrass the bride with at the wedding, photos to upload to Facebook so that all of your old school mates can see how good you look now...

Of course, putting one of the girls in charge of the camera means that she'll be missing from all the pictures and it also means you're going to be spending the next day frantically un-tagging yourself on Facebook, or squinting at blurry, dark pictures and wondering exactly what it's meant to be of.

Not anymore! Our VIP photoshoot is a party package like no other, ensuring that you get a high-quality record of you and the girls celebrating the bride-to-be's big night! It's you, your friends, a fabulous night out, and a professional photographer along for the ride who'll take glam photos of you and the ladies, wherever you go (and whatever you get up to)!

No matter how strong your selfie game is, these pics will be a far better memento of the night than any number of bathroom mirror snaps from the club toilets. All fifty photos will be airbrushed and given to you on CD - and we'll throw in a glass of bubbly for the bride as well.