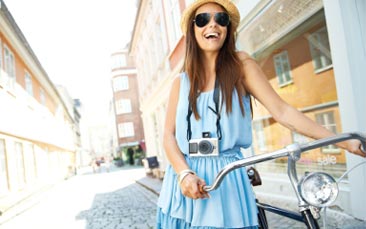 So you've decided to bring the hens to Valencia for the big weekend? Great decision! There's plenty to see and do out here, plus, when there's so much sun it's the perfect opportunity to top up your tan! But there is one small-ish problem. You've got virtually no idea where anything is; you could have a look at a few guide books, but come on, who wants to waste valuable time on a hen do reading a stuffy old holiday brochure? No, on your special weekend, you need our city bike tour.

Spend an afternoon getting some fresh air and beautiful sunshine while getting to know the wonderful city of Valencia. Your bike tour will take you through the old historic parts of the city, through the pine-tree parks full of fountains and wildlife and around the famous 'City of Arts & Science' which was designed by Spanish architect Santiago Calatrava.

After you've marvelled at these amazing feats of modern architecture, head down to the Formula One track at the harbour. Here you'll see some of the best bars and restaurants in the city sitting on the waters edge, with Valencia's sweeping, sunny beaches lying just beyond them. Take this perfect opportunity to take a break from cycling to catch some rays on the sand with your favourite girls.

Our Valencia city bike tour is a great way to get up close and personal with this magnificent city. You'll get your hen weekend off to a flying start, and it's a fantastic opportunity to break the ice with girls who you're less familiar with. Soak up the sun, learn about this great Spanish city and have an unforgettable time!