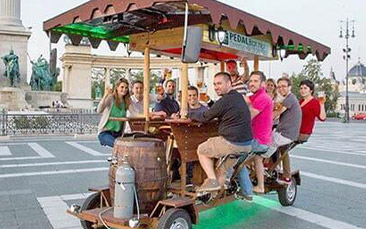 It's the classic hen party dilemma: you've gone abroad to celebrate the bride-to-be's big weekend, you want to party in style, you want to enjoy a hilariously fun activity, you want to get out and about in the open air, but you don't want to stray too far from the bar. What is a hen to do?!
Two words: Beer Bike!
Yes, with the fantastically fun Valencia hen party Beer Bicycle, you no longer have to make that tough decision of getting out and about or heading to a bar as you can now do both at the same time. The action begins when you meet your experienced driver and saddle up (well, we couldn't have you drinking, pedalling and steering although us ladies are great multi-taskers even that would be a bit of a stretch!). You'll then take to the streets in your own pedal-powered boozer pouring as you go.
The bike will be filled with 30 litres of delicious beer (all that pedalling is thirsty work, after all), plus it's even fitted with music and lights to get the party started, keep it pumping and dazzle onlookers as you glide on past.
Hilarious fun from start to finish, this unique activity is guaranteed to go down a storm with the rest of the hens, plus it gets you out in the Spanish sunshine rather than being cooped up in a dark, dingy bar all afternoon. Win/Win!
Warning: This may ruin every other form of transport for you as nothing will ever live up to this hilarious, beer-fuelled, pedal-powered hen adventure!
The fun doesn't have to finish when your fab trip comes to an end, carry on the entertainment with some brilliant Beach Games or indulge in some authentic Spanish Tapas. Speak to a member of our lovely team today for more info about creating that perfect hen package.