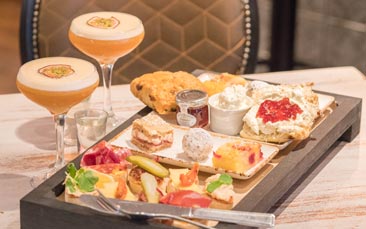 Who doesn't love afternoon tea? It has to be one of the most important meals of the day covering all the key food groups (scones, cake, sandwiches and cream). And with this fabulous tipsy tea make it the full five by adding a little booze. You're welcome!
The fun starts with a table reserved especially for your party. You'll be shown to your table and once everyone is seated you'll be served a delicious afternoon tea with a difference. Because afternoon tea is certainly delicious, but rather than going down the Mary Berry route, this is more like Noel Fielding is in charge. There's still access to wonderful baked treats, it's just a bit more punk.
You can choose from two menus, one is served with 2 glasses of prosecco each, the other is served with 2 cocktails each (you can choose any two cocktails from the menu except for Espresso Martini and Pornstar Martini).
Along with the booze the Tipsy Tea consists of:
Open Sandwich Selection
Salt beef & pickle
Smoked salmon rillette
Antipasti
Cheese & sun-dried tomato
Scones
Bite-sized Desserts
Cookie crumb profiteroles
Cherry & pistachio
Afternoon tea bites
Your table will be booked for two hours so you can eat, drink and be merry without feeling rushed. This is a great time to relax from some of the madness of the weekend and unwind with a tasty treat and a drink. You can raise a glass to the guest of honour and eat cake. Win/win.
Vegetarian options are available.
Please Note; Not suitable for guests with gluten intolerance, dairy intolerance or nut allergies. Large groups may be split across multiple tables.