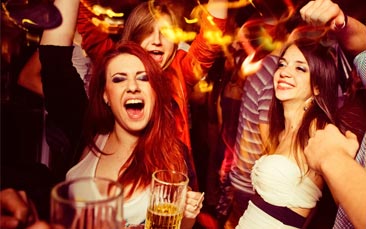 Our Tenerife hen party bar crawl should probably be entered into the "stuff of legend" category of hen party nights out. This really is a party night like no other and certainly not for the fainthearted.
The night will begin by meeting your Tenerife hen party bar crawl host at the prearranged point. You'll then be on route to a memorable night celebrating the nearly-wed's last weekend as a single gal. We have two types of party to choose from;
Exclusive Tenerife Hen Party Bar Crawl (All week)
A smaller and more intimate affair, this hen crawl is exclusively for your group of hen friends. You'll visit a minimum of 5 of the coolest bars in the resort with a free shot at each bar. With plenty of laughs and nonsense along the way, the night will end at a top nightclub where all the girls can get on the dancefloor and party until the wee small hours of the morning.
Giant Tenerife Bar Crawl (Saturday's only)
As the sun sets over Tenerife the party hen party animal awakes. This really is one of those nights that people talk about for years. You'll join a party of between 50-200 revellers and set out on an epic night of laughs, games, shots and shenanigans in Las Americas including the famous Linekers bar. It's an absolute must for ladies who like to do things in style and do them bigger!
Whichever way you decide to go, you're guaranteed a fantastic night full of top tunes, great laughs spent with good friends. Yes the music could well be cheesy and no doubt you'll be ordering cocktails you wouldn't consider back home and there will even be some very cheesy tunes that you'll be partying to like crazy fools. But all of that is part of the fun!