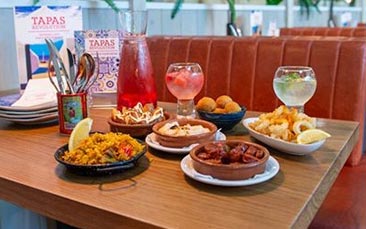 This is exactly our kind of revolution, no need for political rhetoric, no bringing down the monarchy or anarchy on the streets, just piping hot delicious food and plenty of it. "Viva la revolucion!"
This fantastic hen-friendly restaurant serves nothing but fabulous tapas, accompanied by a great selection of Spanish wines and beers. Alternatively, you can add some Spanish cava or sangria (because it isn't tapas unless you're drinking sangria). This is food that is meant to be shared and a hen weekend is the perfect occasion to do that. The bride-to-be can break bread (and add a little bit of aioli) with all her best friends.
With your table pre-booked and the meal paid you can just relax and enjoy the evening with the rest of the hens.
The menu:
Jamon Serrano Gran Reserva Selecta - Dry-aged chestnut-fed serrano ham, hand-carved and served with breadsticks.
Pan Con Tomate - Toasted bread, garlic, tomato and olive oil.
Calamares Fritos - Squid strips tossed in flour, deep-fried and served with aioli and lemon.
Croquetas de Jamon - Deep-fried cured ham and béchamel croquettes.
Tortilla de Patatas (v) - Classic Spanish omelette with eggs, potato and onion.
Chorizo a la Sidra (gf) - Spiced Asturian sausage roasted with cider.
Patatas Bravas (v) - Roasted potatoes with spicy tomato sauce and aioli.