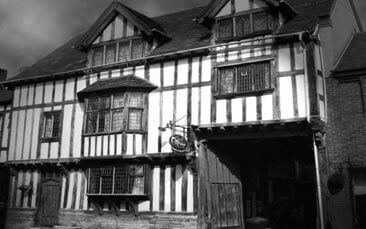 Move over Bill Murray, there's some new ghostbusters in town... And they look fabulous!
Our Stratford haunted hen nights will see your hen party adding some glamour to one of the UK's most haunted sites as you spend a night carrying out intense paranormal research. Just like your very own Most Haunted, you'll head into the building armed with a team of experts along with equipment to record any weird activity. It's just a matter of plucking up the courage to enter the spooky site in the first place... Yikes!
Tudor Hall
Set on a small cobbled road this ancient medieval building might hold some dark secrets and has certainly experienced a few reported ghost sightings and ghastly sounds. Whispering voices, heavy footsteps, as well as some well-known spooks; a young pickpocket who has been known to try and remove visitor's jewellery, a corrupt justice of the piece who extorted money from the locals, and a dark hooded figure who walks through the halls at the same time each year. Some people have been known to refuse to return to certain parts of the building having been exposed to freaky goings-on.
The site has been occupied since 1146 during which time it has seen plague, fire, civil war, murder, reports of witchcraft and even stories of a 17th-century serial killer. Troops were billeted here during the Civil War and William Shakespeare is said to have visited. Whether he fled again in terror is not known. As for the screams, they might well turn out to be the echoes of the last hen party to visit.
So go on... step inside... we dare you!!!