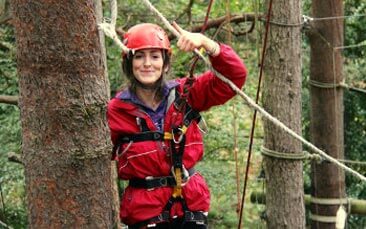 Whether it's a case of too much to do and too little time, or you simply can't decide which activity it is you'd like to try, a Southampton hen party multi-activity day can really impress the girls. On your bride-to-be's special weekend, why should the girls have to settle for one exciting challenge when you could easily have two?
This day of nearly-wed fun lets you have your cake and eat it by offering you a range of fabulous packages. These are filled with enough action to excite even the most adventurous of hens, while ladies looking for a change from spa days and massage treatments can learn new outdoor skills in these stunning forest surrounds.
Whether you fancy learning bushcraft survival techniques of the kind Bear Grylls uses (sadly he's not the one teaching you), rampaging around a woodland combat zone in the hilarious virtual warfare or saying "so what" to gravity by ascending to the treetops in a sensational high ropes course, there's something for everybody here.
On our Southampton hen party multi-activity day, you can choose from:
Bushcraft and High Ropes...
Learn exciting survival techniques.
Discover how to build a shelter and track.
Rustle up an add-on lunch using the open fire.
Then it's time to face any fears of heights...
...before defying gravity on a high ropes course!
High Ropes and Virtual Warfare...
Take on the exciting high ropes course.
Once you've returned to earth you'll put on your war paints...
Get dressed in that fetching camouflage...
Before discovering your inner G.I. Jane in virtual warfare!
Use infra-red guns in a variety of game scenarios.
Canoeing and Virtual Warfare...
Climb into your canoes, try not to capsize!
Learn the basics before a few games.
Once you're ready you'll take on fun challenges.
When you're back on dry land you'll have to lock and load...
Before taking on the girls in hen vs hen virtual warfare!