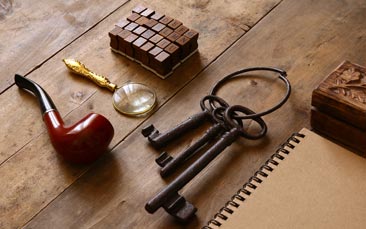 Love those TV game shows of the 80's and 90's? Tired of screaming at the TV "No it's that one you idiot!" Think you've got what it takes to tackle a live-action game show?
Then lets up the stakes.
This time you'll get to play the game. You can even bring all your friends. The only difference is that once you're inside the room we're going to lock the door behind you. You'll need to solve all the tests, puzzles and challenges.
You have just 60 minutes to escape.
The prize?
Your freedom.
There are two rooms to choose from:
Crystal Maze
This room has a weird and wonderful array of puzzles and challenges. For every game you win you'll be given a crystal. You need to collect all 8 crystals to be able to unlock the door and escape. So step this way, make yourselves at home, this could be quite a long stay.
The Cube
Inside the room, there is a cube. Inside the cube, there is a key. This and only this is the key to your freedom.
To unlock the cube you'll have to pass a series of challenges and win a number of games. You'll need great teamwork as well as moments of individual and inspirational genius. Are you ready to play?
Atmospheric, challenging, and brilliant fun, our Bournemouth escape room is a cryptic, live-action challenge that will test your brains, wits and nerve. It's also a great way to bring all the girls together and include everyone, perfect if not all the group have met before.
Smaller groups can all enter the same escape room. Larger groups will be split into teams and race to see who can escape the quickest.