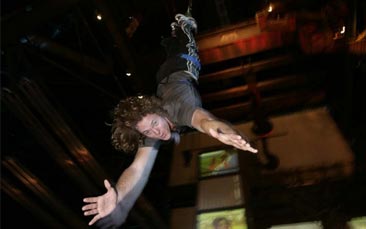 "Three..."
"Two..."
"One..."
"Bungeeeeeeeeeeee!!!"

If traditional activities such as cocktail mixing and health spa days don't excite you but instead you're looking for something a bit more unusual, adrenaline-fuelled, and utterly unforgettable then bungee jumping is for you. The ultimate adrenaline buzz, bungee jumping tops many bucket lists. This really is a day out to remember, particularly as our Sheffield site is the home to the highest indoor bungee jump in the world! Yes, you read that right - it's an awe-inspiring 150ft drop, making it an incredible white-knuckle day out, you'll be talking about for years to come.

And this is no ordinary bungee venue either. With 7 massive video screens, atmospheric lighting, a speaker wall blaring out banging tunes and dry ice filling the bungee arena it's like tackling your bucket list head on while inside a giant nightclub.

Every bride-to-be wants something special to make her hen party truly individual and this will give her memories of her weekend away with her best friends to treasure for a lifetime. A great atmosphere and unbelievable challenge, our Sheffield hen party bungee jump really does tick all the boxes.