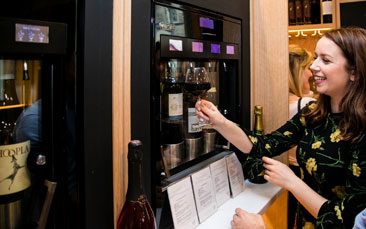 Now, you can always get a wine expert to tell you all about wine, but sometimes wine experts do a little too much talking and not enough drinking. So GoHen have come to the rescue!
If the bride-to-be and her hens are known to enjoy the occasional glass of wine or two we certainly won't judge you, what we will do is help you expand your knowledge at one of the city's best drinking venues. Here you'll find an "Enomatic self-service wine dispenser". On the surface that sounds like a lot of fancy words, in reality, it's a brilliant way to sample different types of wine from around the world without having to listen to long-drawn-out tales about regions and soil acidity. However, if you do want to know about all the highfalutin grape facts, then there are experts in the venue that can fill in any gaps in your wine knowledge.
The fun starts with a welcome glass of bubbly each as you're shown to your own reserved area, "the snug". Each hen will then be given £15 credit to use at the machine. And because hens cannot live on wine alone, you'll also receive a few snacks including:
French cheeses
Saucisson
Cured hams
Olives
Bread & dip
This is a great, relaxed venue where the focus is all about enjoying the very best of the finer things in life. Who wouldn't want that for a hen weekend? And 'the very best of the finer things in life' is perhaps the perfect way to describe your selection of hen friends. Just add wine, music, a few tasty treats and start your hen weekend away in style. Cheers!