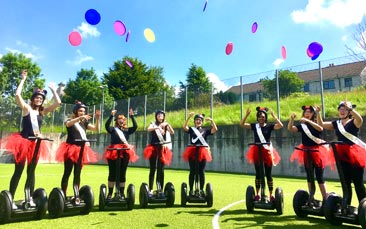 Adventurous hens who love to laugh will definitely be in the right place with our hen party Segway Polo and Games. For those not in the know, Segways are two-wheeled electric karts that you stand up to drive and operate purely by leaning in the direction you want to go. It's simple to pick up and you'll be given plenty of time to practise.

Once everyone has got the hang of these contraptions (and there will be friendly instructors on hand to help) it's then time to let the games begin.

Segway Frisbee - Things will kick off with a game of Frisbee as you get to grips with manoeuvring your electric chariots. Most importantly that involves not driving into each other.

Segway Nerf-Gun Jousting - This is head to head combat. Each hen is armed with a Nerf-gun, you then go up against your fellow hens in a series of jousting battles. Nerf-guns fire lightweight Velcro tipped foam darts which stick to your opponents when you score a direct hit. "Eat Nerf, Bridey!"

Segway Polo - The rules are exactly the same as the equine sport, you'll be riding your Segways to chase the ball which you hit into the opposing goal using long wooden polo mallets. This is a brilliant team game which competitive hens will love.

Segway Water Battle - This really is as simple and hilarious as it sounds. Each hen is armed with a water soaker (giant water pistol) and then sets out to soak the opposing team. It's kind of a 'last hen soaking' shootout and a stomach-achingly funny way to end a great day.
Make sure you keep refreshed throughout with the complimentary tea, coffee and snacks available. At the end of your session, you'll also get the chance to toast the bride-to-be with a free shot, beer or prosecco. So don't hesitate, get booking!!