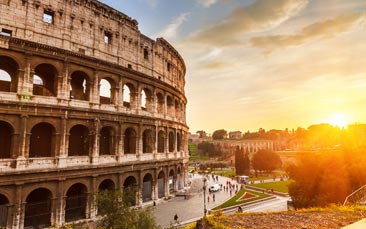 As a city of breath-taking beauty, history and sophistication, Rome is totally unrivalled. No trip to the Italian capital is complete without taking a look around the stunning sights and cultural heritage of the city, many of which have been the backdrop of some of the most iconic movies of all time.

With a choice of either a 48 or 72-hour time frame, our sightseeing pass covers all public transport within the period, as well as free or discounted access to a whole host of museums, visitor centres and cultural and archaeological sites. You'll also be able to jump the queue at the world-famous Coliseum. Plus free entry to the first site you visit.

Rome really is a fantastic city and certainly one of our favourites and we really would advise any groups to make the most of the trip and set time aside to see some of the amazing sights of a city that dates back over two and a half thousand years.

Rome is undoubtedly one of the most iconic cities on the planet. This pass makes sightseeing a whole lot easier so you can really make the most of your time in the capital. With our sightseeing passes, it really is simple; all you need to do is decide where to go first!

Free entrance to these museums; Museo Canonica, Museo delle Mura, Accademia Nazionale di San Luca, Villa di Massenzio, Museo della Repubblica Romana e della Memoria Garibaldina, Museo Bilotti a Villa Borghese, Museo Napoleonico.