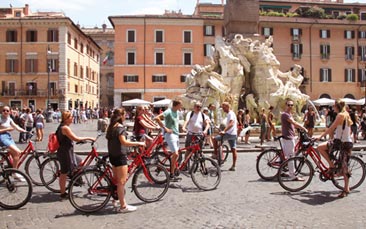 Standing in the Roman sunshine, feeling fit, getting brown, surrounded by great friends with a delicious ice cream in your hand… Life doesn't get much better than this. It's the kind of day we all want to come true and now it can, you just need to get booking.
Enjoy a 'sporty' tour around one of the world's truly great cities. It has to be one of the world's most photographed locations with a real wealth of fashion, architecture, fashion, food and pure glamour. And now it's got hens.
You and the girls can take in those sights that millions dream of visiting. But to do it all with your best friends is a once in a lifetime treat. Not only will you get the sunshine and an interesting and friendly English speaking guide, you'll also get a great workout, perfect for all the hens as the wedding draws closer. And to top it all of we'll even treat you to an ice cream (gelato) each.
Sights you'll visit will include:
Imperial Forum
Coliseum and Arch of Constantine
Circus Maximus
Mouth of Truth
Theatre of Marcellus
Jewish Ghetto
Campo dei Fiori
Piazza Navona
Pantheon
Trevi Fountain
Piazza Venezia
And there's one more amazing sight, a fabulous Italian ice cream parlour where you'll all get to try a genuine 'gelato' right in the heart of the Eternal City.
You don't need to be an expert rider or even super fit, our guide will be happy to ride with you and tailor the tour to your group to ensure you have a relaxed time between photos. These are photos that really will last a lifetime and the perfect backdrop those hen weekend memories.