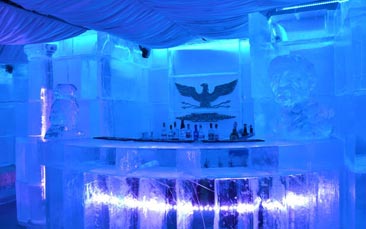 So... you are planning your hen weekend but need a bit of inspiration. It's okay: here at GoHen we know about the inevitably high expectations to find something new for the girls. Having a few cool drinks is always high on any hen party's "to-do" list and you won't find anywhere cooler than this fantastic ice bar.

Rome is absolutely breathtaking, and is perhaps the sexiest city in the world. Suffice to say, it is a perfect hen location for more sophisticated hens. As an activity, a trip to the capital's only ice bar is a totally unique and unforgettable way to start off your night. On arrival, you will be given a delicious vodka cocktail to enjoy as well as suitable clothing to survive the arctic -5 degree temperature! With everything in the bar made of ice - including the chairs, tables, walls and drinking glasses - it is a surreal experience that is perfect for breaking the ice between the girls.

On top of all that are the faux-fur lined space age looking thermal cloaks to make sure that while the drinks are chilled to perfection, you're all kept nicely toasty. You can bring your own gloves or you can buy mittens on site to wrap your hands around those uber-cool cocktails. If you're really in the mood you can treat the bride-to-be to some bubbly as you all raise a glass to her big day.

Please Note: for safety reasons the sessions are limited to 45 minutes in total.