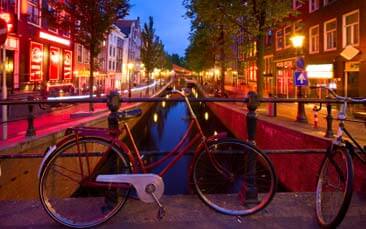 It's easily the most famous red light district in the world and it attracts millions of tourists to Amsterdam year after year to see its sexy window dancers and seductive backstreets. There's a reason this is one of Amsterdam's most iconic tourist magnets; it's absolutely fabulous! With as much to enjoy for hens as there is for stags in this bustling cosmopolitan delight, you'll be sure to enjoy every second of your fantastically in-depth tour of the area!

Your professional hen party red light district tour guide will take the girls through the area providing fascinating insight to the inner workings of the clubs and barely known trivia about key sights. Your guide will be both charismatic and informative, guiding you through tiny back alleys and showing you hidden away gems that ordinary tourists will never see!

With beautiful canals and streets bustling with activity all day and night, this electric part of the Dutch capital is alive with tourists and locals alike. With tiny shops, busy bars and an amazing collection of clubs, there's no finer place to spend some bonding time with your girlfriends than this nutty area. Get to know the district, its little known secrets and some of its greatest venues from an in the know expert guide; you'll know everything you need to have a great time out there once you leave your guide!

There are a number of enticing upgrades that can be made to your tour that promise to ramp up the hen hilarity. With everything from entry to the notorious Casa Rosso club to naughty peep shows to enjoy should you choose to upgrade your tour, you can make it an even more unforgettable night out in Amsterdam!