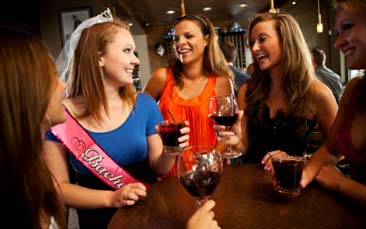 If you're heading to a new city the last thing you want is to spend time walking from bar to bar (especially in heels) trying to find the best place to party and avoid any dodgy dives.

The right venues are essential to a great night out. Thankfully at GoHen we've already done all the legwork to save you from giving your Louboutins too much of a bashing.

We can also make sure you're names are added to the guest lists ensuring swift hassle-free entry into a wide variety of venues.
Guestlist night club entry
Restaurants & dinner reservations
Male strip show tickets
Comedy clubs
Riverboats
Cabaret
Karaoke, meal & club
Booze cruises
At GoHen we know all our destinations well and pay regular visits so we can keep in touch with the hottest new bars, clubs and restaurants (it's thirsty work but somebody has to do it...) so that we can keep you heading in the right direction for the best parties.

There is also one crucial party factor, large groups of girls, particularly if you happen to be fully decked out in your finest hen party regalia, can occasionally run in to problems when approaching humourless muscle clad security... or just end up in some silent local that hasn't seen any new punters since it opened in 1984. With this in mind, let us organise your pubs and bars for you - from simple recommendations of venues that will suit your weekend, to full guest list entry, complimentary drinks and dinner deals.

We've got it all covered, and will ensure you get easy, quick, hassle-free entry into a venue that will let you get the best out of your hen night.