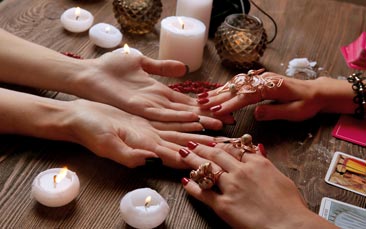 Ever fancied yourself a little bit psychic? Or maybe you're open to new experiences? Well, with our psychic hen party experience, you have the chance to connect with a particular loved one, experience live writing from the 'other side' and get personal readings for all the hens.

If you're interested in seeing what the future may hold, let a real clairvoyant loose on your mind and aura with spiritual investigation. Whether you want to try connecting with a relative who passed away or simply feel like having a bit of fun, this activity is certainly different and will make for a totally out of this world hen weekend! Even the sceptics amongst the hens might open their minds a little when they see our hen party psychic in action.

Our naturally gifted TV and celebrity medium will take you and the girls on a ride through to the other side, where you'll be absorbed within her presence and awakened to a world other than our own. Our psychic experience reader offers a range of spiritual journeys for the hens, and her history as a spiritual guide to countless celebrities is proof of her reputation!

Take the opportunity to connect with your spirit and guardian angel in this eye opening activity which is perfect for those who favour a more relaxed hen weekend or want an evening dedicated to chilling out and spending quality time with good friends.