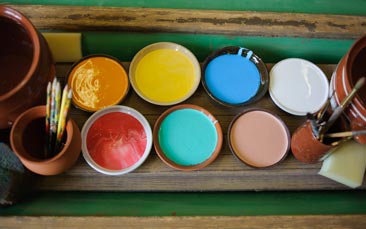 I think it would be fair to say that most of us girls love to have a catch up over a cuppa, this fantastic activity allows you to do just that, except you'll be designing your own cups.

The perfect option for a mixed group of hens or self-confessed tea obsessed bride-to-be.

Each of the party will be able to keep and enjoy her work of art. This is perfect for hens with a mixed age group, simply sit down and let your inner artist's creative energies flow "I'm currently going through my purple phase darling...".There is a selection of pottery items for you to work on; Cups, Plates, Mugs, Tea Pots & Bowls.

The pottery will be set and just require your artistic flair to bring them to life, you could create a set of mugs or plates for the nearly-weds or each design your own piece to enjoy at home. But being so creative is thirsty work, especially when you're looking at so many cups. We'll arrange for teas or coffees.

For added hen party elegance you can upgrade to enjoy a bottle of bubbly and some delicious cakes. Please ask our team for more details.

The activity is based in the heart of the city, close to bars, restaurants and fantastic shops, so once you've finished why not head for a light lunch before letting your plastic do the talking at some superb vintage shops and markets.

Please note that it may take up to 3-4 days to complete the firing process on your pieces, so you will either need to return to the venue to collect your finished work or arrange postage and packaging at the end of your session (approx. £10 per kg).