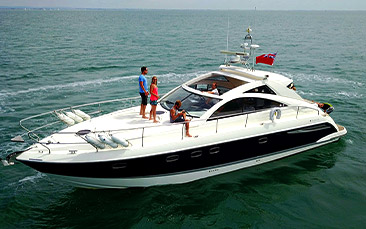 Set sail for a spectacular day of relaxing, reclining and partying as you and the girls indulge in a taste of the high life whilst you cruise the British coastline on your very own private powerboat. Ladies, this is living! The Portsmouth hen party Powerboat Charter is a once in a lifetime experience and a chance for you to live it up like the A-listers you are. Pack the drinks, pop the bubbly, it's time to party!
On arrival, you and the girls will dance on down the quay (yes, it's gonna be that sort of day) before you meet your experienced captain and hop aboard. The skipper will then kick the boat into gear as you prepare to kick the party into gear!
Make sure you bring with you some hen treats with you, of both the food and drinks variety, to keep the party in full flow. Aboard there are twin fridge freezers and an ice maker to keep everything nice and cool, whilst there's also a BBQ area where you can whip up a tasty hen feast.
The boat is also fitted with a high-powered speaker system with its own bass box so you can get those tunes pumping and there are areas above and below deck where you and the girls can throw some shapes and recline.
There are even two shower rooms aboard, so if you fancy a refreshing dip in the ocean you can wash away all the salt before getting back into your party outfits and carrying on the mayhem.
Private powerboat parties are no longer exclusively reserved for Russian oligarchs off the coast of Monaco or Premier League footballers splashing their seemingly unlimited pools of money, it's now your chance to live it up and enjoy a taste of the high life!
C'mon ladies, give the bride-to-be the send-off she well and truly deserves.