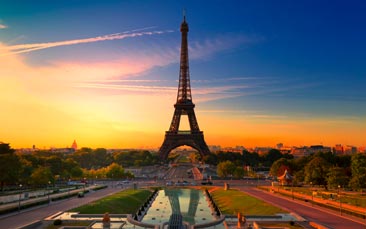 In terms of a sophisticated hen weekend, there are few places that can beat Paris. 'The City of Love' is known the world over for providing unforgettable memories. And no trip to the heart of European sophistication and elegance would be complete without a trip to one of the world's most iconic landmarks.

As an add-on activity to your weekend, it couldn't be simpler to tick this off your bucket list of 'must-see' locations. What's more, the view from the top is quite simply breathtaking. As a stand out memory from any trip, the Eiffel tower really is one the bride-to-be and all her guests will remember forever.

You and the girls will receive your tickets in advance to ensure smooth entry on arrival and avoid any need to queue for tickets. Located on the Champ de Mar, the tower stands at over 1,000 feet tall, with three levels for tourists to visit. It's not a bad workout either with 1665 steps to climb or if you're feeling a little fragile from the effects of the night before you can always take the lifts.

Once you reach the viewing levels, you will be overwhelmed by the stunning views of the French capital. There are also restaurants on the first and second floor if your group wish to dine in style!

Eiffel Tower Factfile
The Eiffel Tower was originally built in 1889.
The tower weighs around 10,000 tonnes.
It is the most-visited paid monument in the world, with over 250 million people visiting since its opening, and 6.98 million in 2011 alone.
Due to temperature changes, the height of the tower can vary by up to 5.9 inches.
The tower contains 20,000 light bulbs.