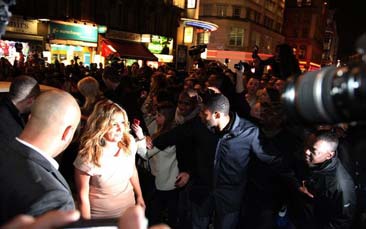 Have you and the girls ever wondered what it might be like to walk the red carpet? Well on your paparazzi experience you'll finally find out! Your paparazzi flock can either feature a couple of photographers to capture a low key but effortlessly stylish entrance or if you really want to make a buzz, we'll arrange for a full-on media frenzy!

As you rock up to your venue, whether it's a posh restaurant or a classy bar & nightclub, you'll tread that crimson carpet and for a moment, you and the girls won't be hens, you'll be dazzling celebs! Photographers (possibly from Vogue magazine, who knows?) will follow your every move, getting some high-quality snaps of you and the ladies looking drop-dead gorgeous.

Our paparazzi are really experienced; they'll make sure to catch all the best shots. You might even find some photographers fighting for your picture, calling your names as you strut your stuff down the carpet to ask for some 'exclusive' photos. The competition to get quality snaps of celebs like you is pretty fierce, didn't you know?

Our hen party paparazzi experience is an absolute must for girls looking for a great way to surprise the bride-to-be on her big weekend. Imagine the look on her face when she arrives for what she thinks is just a normal night on the tiles, only to discover she's become an overnight tabloid sensation!