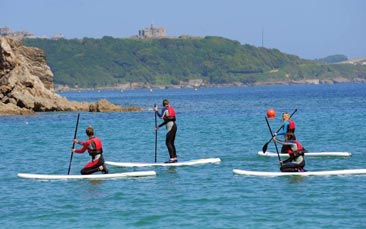 Newquay is quite simply one of the most beautiful locations in the UK and the perfect place to celebrate any hen party. As well as the great weather and stunning scenery we have lined up some fantastic activities for adventurous hens who need more than cocktails and canapes to sink their teeth into.

You can try your hands at up to five brilliant activities. The day is yours to design and you can take things at your own pace, either settle on two activities and really get to grips with them or pack 5 adventurous beach based challenges into your day.

Surfing is absolutely essential for a weekend in Newquay, with the most beautiful beaches in the UK. "Like, surf's up dude!"

Bodyboarding is similar to traditional surfing, but you are lying down onboard specially designed boards as you ride the waves. Slightly easier for first-timers.

Volleyball is a perennial favourite on the beach and beach volleyball was a smash hit at the London Olympics. Volleyball is a challenging yet fun activity for you to enjoy with the girls.

Zorbing involves being strapped into giant hamster balls. Once you're snug inside your zorb it'll be sent hurtling down a hill for a thrill ride with a difference.

Archery will see you go up against your fellow hens in this hugely addictive sport that will really bring out the competitive streak in all the hens.

Beach football is a chance to show off your samba soccer skills!

Stand-up paddleboarding (SUP) is a complete test and a craze that is sweeping the nation. It's exactly what it says on the tin, boards you stand on and propel yourself over the water using long paddles. It really is brilliant fun.

It's just like Baywatch, but instead of hunks in trunks running in slow-motion, it's hens in wetsuits trying to overcome their hangovers! Who needs California?!?

Please note: You are able to add a BBQ lunch to your package. Please speak to your account manager for further details.