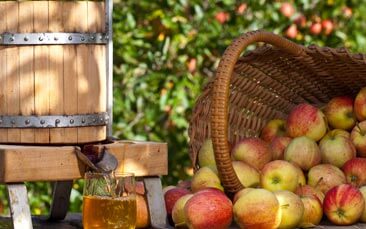 Gurt lush! For the cider drinkers amongst you, this appley extravaganza is an absolute dream. The West Country is the spiritual home of cider, so this tasting session in Newquay is a guaranteed hit for groups of all ages who enjoy a "proper drop". We'll most certainly drink to that.

The activity comes in three parts. First up is a tour of the grounds, taking in all parts of the process including the press house, bottlery, cider museum, distillery, cellars and jam kitchen. The whole shebang! Your cider expert will give you the lowdown on some cider tips and trivia along the way so you can gain some pub-quiz trivia gold. Now the part you've all been waiting for (let's be honest!), the tasting. You'll sample a number of ciders and see how the different apples and processes really influence the devilishly good flavours. There's no better place than the South West for the country's best ciders with the biggest flavours - trust us, we make our home on this side of the country for a reason!

Finally, you'll really be "down on the farm" with a vintage ride around the incredibly beautiful leafy orchards site on a 1950's Fordson Major tractor. Oooh arrrr! Live the farm life hen-style in this hilarious experience that'll be a real barn-yard blast from the past.

Newquay is one of the prettiest places in the UK and on a nice summer's day this really is the perfect accompaniment to any weekend. Add a little scrumpy and you really will be creating a totally tasty weekend. This is one of Cornwall's best cider farms and simply put, cider tasting is a real gem of an activity that everyone in the group will love on a Newquay hen party.

Trust us on this one, we have the in-cider information (ahem).