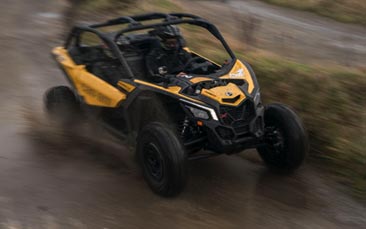 Forget road rage! If you're tired of your weekly commute to work then our Newcastle hen party RX buggies are the best way to put your foot down and totally let rip!

Firstly we should point out just how adorable the buggies look, the bright coloured machines are the kind of thing you'd expect to see Noddy or Postman Pat in... if ever they were to appear in Mad Max! These angry little mechanical beasts are the Tasmanian Devil of the motoring world. They'll literally eat up and spit out any terrain you point them at. And with their simple stop and go system even complete driving novices will be able to get the most out of these lightning machines.

Equipped with roll cages and safety harness they are used to taking a hammering as you slide them around corners, head over bumps and jumps and get completely fast and furious. This is just about the most fun you can have in a car without seeing flashing blue lights behind you. The ground is loose gravel which is no problem for the heavyweight tyres and does mean you'll soon be slinging them round like stunt drivers before the session is ended.

The friendly on-site team will be on hand throughout the day to keep you all safe and show you how the buggies work. Each of the hens is given a chance to get used to the handling and crazy track. You'll then start racing with either time trials (who can post the fastest time?) or head to head racing against your fellow hens. Our RX buggies will give added va-va-voom to your Newcastle hen do.